Why Are the Oscars Called the Oscars? How the Iconic Gold Statuette Got Its Name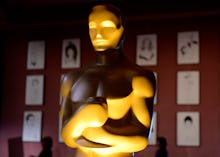 Kevork Djansezian/Getty Images
The name Oscars is useful shorthand for an awards ceremony held annually by the clunkily named Academy of Motion Picture Arts and Sciences, true. But the reason why the Oscars are called the Oscars is not immediately obvious. 
The ceremony is so-called for the golden statuettes awarded to actors and filmmakers for their outstanding work, a decision that came as a revitalizing effort in 2013.
"We're rebranding it," Neil Meron, the show's co-producer, told TheWrap. "We're not calling it 'the 85th annual Academy Awards,' which keeps it mired somewhat in a musty way. It's called 'The Oscars.'"
Read more: 10 Years Ago, the Oscars Made Their Worst Best Picture Choice Ever: 'Crash'
Pithy. Youthful(?). A reference to the trophy handed out at the event. But why is that called an Oscar?
According to Oscars.org, the statuette was designed by MGM art director Cedric Gibbons following the first meeting of AMPAS in 1927. Sculptor George Stanley made his design — a knight standing atop a film reel, sword in hand — a reality, and the first award was given to actor Emil Jannings in 1929. 
Oscars.org admits that the "origins of the moniker are unclear," but often attributed to the then-Academy librarian (later, its executive director) Margaret Herrick, who saw an uncanny resemblance to her Uncle Oscar in the statue. The unofficial Oscar nickname was formally adopted by the Academy in 1939.
As Mental Floss reported, it was Hollywood gossip columnist Sidney Skolsky, who overheard Herrick's reaction and wrote that "employees have affectionately dubbed their famous statuette 'Oscar,'" thereby spreading the word. According to Mental Floss, Skolsky later took credit for the nickname's coining in his memoirs, describing entirely different circumstances. He alleged that he'd conceived of "Oscar" in an effort to rib Hollywood elites with a vaudeville bit.
Some say that Walt Disney called the statuette Oscar during his 1934 acceptance speech for Three Little Pigs. Bette Davis, too, claimed credit for the naming, saying the trophy made her think of her husband's (which is to say, Harmon Oscar Nelson Jr.'s) backside after a shower, according to the Hollywood Reporter.
Whatever the reasoning, that's the name and we're sticking to it. Watch the 88th annual Oscars live on ABC, starting at 8:30 p.m. Eastern on Sunday, Feb. 28.