4 Powerful Kendrick Lamar Songs That Spoke to Black America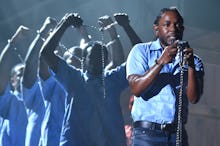 Larry Busacca/Getty Images
When Kendrick Lamar took to the stage during the 2016 Grammy awards, and when Beyonce performed at Super Bowl 50, the two artists helped change the way the public perceives black storytelling and performance. Lamar's medley of songs from To Pimp a Butterfly, the visual aesthetic of the rapper in chains and the final image of Africa with the word "Compton" written in the middle made a powerful statement regarding mass incarceration. 
"Kendrick came to us and said that we live in a time where these issues confront us every day and that it's important that they be given a public forum, and he would like to use his x number of minutes to create a great performance that is consistent with his this year," Grammy producer Ken Ehrlich told Billboard in an interview. "It is overtly political and it is overtly provocative, and I think if nothing else it's going to give people something to think about and talk about."
Read more: 7 Kendrick Lamar Lyrics From 'To Pimp a Butterfly' That Prove He's a Crusader in Rap Music
While the performance was one for the ages, Lamar is no stranger to producing songs that speak to deep-seated issues in the black community, such as the ever-growing U.S. incarceration rate, race relations and oppression. 
Here are four songs from Kendrick Lamar's catalog that address these issues head-on:
"The Blacker the Berry"
"The Blacker the Berry," is perhaps the Compton rapper's most unapologetically black song to date. From Lamar's 2015 album To Pimp A Butterfly, the artist attacks what he feels is an oppressive system through his lyrics:
"Came from the bottom of mankind/ My hair is nappy, my dick is big, my nose is round and wide/ You hate me don't you/ You hate my people, your plan is to terminate my culture/ You're fucking evil I want you to recognize that I'm a proud monkey/ You vandalize my perception, but can't take style from me"
"With 'The Blacker the Berry,' Kendrick spends most of the track rebelling against those who he feels are intent on marginalizing and oppressing black people," Stereo Williams writes in The Daily Beast. "He's at his most confrontational and unapologetic for the vast majority of the Boi-1da-produced song."
"Alright"
During an intense summer of protests, marches and racially-charged rhetoric, "Alright" spoke to activists, students and protesters across the United States. 
"And we hate po-po/ Wanna kill us dead in the streets fo sho'/ Nigga, I'm at the preacher's door/ My knees gettin' weak, and my gun might blow/ But we gon' be alright."
With race relations reaching a boiling point, "Alright" was a welcome anthem for black America that united a generation. The track was released on Lamar's 2015 album To Pimp a Butterfly.
"Over this past summer, a season as bloody as it was humid, it's been vital to have a song like 'Alright' that offers a sense of community and hope," Julia Craven writes in The Huffington Post. "For my part, I know that whenever I hear 'Alright,' I'm flooded with feelings of hope. I feel the beat flowing through my veins as a big grin unfolds across my face. The lyrics force me to face the harsh realities of black life while also managing, somehow, to alleviate the pain."
"HiiiPower"
In 2011, at the age of 24, Lamar was still an up-and-coming rapper from Compton. "HiiiPower," the lead single from his debut album Section.80, was only a taste of what was in store for the award-winning artist. In the track, Lamar references several black figures such as Martin Luther King, Jr., Huey Newton and Malcolm X, while alluding to a new black power movement. 
Just call the shit HiiiPoWeR/ Nigga nothing less than HiiiPoWeR/ Five-star dishes, food for thought bitches/ I mean the shit is, Huey Newton going stupid/ You can't resist his HiiiPoWeR/ Throw your hands up for HiiiPoWeR
Lamar offers his explanation as to the definition of HiiiPower in an interview with HipHopDX: "A lot of people don't understand. They think it's just a song. It's really a big movement that we've got in L.A. that's spreading like wildfire. HiiiPoWer: the three i's represent heart, honor and respect. That's how we carry ourselves in the streets, and just in the world, period. HiiiPoWer, it basically is the simplest form of representing just being above all the madness, all the bullshit. No matter what the world is going through, you're always going to keep your dignity and carry yourself with this manner that it don't phase you. Whatever you think negative is in your life. Overcoming that and still having that self-respect."
"M.A.A.D City"
Good Kid, M.A.A.D City is the second studio album from the Compton rapper. "M.A.A.D City," which peaked at number 75 on the Billboard Hot 100, spoke to not only Lamar's childhood but to other young black children across the nation living in similar circumstances. "The kid that's trying to escape that influence, trying his best to escape that influence, has always been pulled back in because of circumstances that be," Lamar told HipHopDX.
Brace yourself, I'll take you on a trip down memory lane/ This is not a rap on how I'm slinging crack or move cocaine/ This is cul-de-sac and plenty Cognac and major pain/ Not the drill sergeant, but the stress that weighing on your brain
"It's just about me seeing somebody get killed, just as a kid. And knowing, and being right there, and knowing how it all went down, feel me?" the rapper wrote in a verified annotation on the lyrics site Genius.