Beyoncé's New Album Is Rumored to Be Dropping in April — and She May Have Another Surprise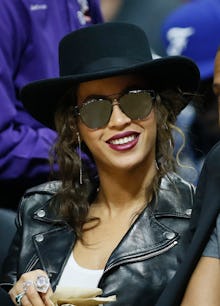 Danny Moloshok/AP
After blowing our minds with her new song "Formation," a groundbreaking video, a stellar performance at Super Bowl 50 with Coldplay and Bruno Mars and announcing a world tour, could the rumors that Beyoncé will be releasing her new album in a few months be true? 
According to HitsDailyDouble, a music news and rumor site, the 34-year-old singer will be releasing her newest album in April. 
"Beyoncé is close to making a new worldwide, multi-album deal with Sony Music, and the final release under the current deal is now set for April," HitsDailyDouble reported. 
Read more: The Anti-Beyoncé Protest Could Not Get in Formation — Only 3 People Showed Up
The site also mentions a rumor surrounding another album from Queen Bey — a collaborative effort with her husband Jay Z. "There are rumors of another Beyoncé album in 2016, this one a joint project with husband Jay Z," according to the website. 
The Formation World Tour begins April 27 in Miami and will have stops across the United States before heading overseas to Europe, so a new album from Beyoncé around April may not be too far-fetched. 
But remember — in 2013, Beyoncé's self-titled visual album was released digitally without any promotion, and without warning. So a new album from the "Partition" singer could literally drop at any time.