You Can Probably Guess Why the YMCA Canceled Its Kids' Slavery Activities in Michigan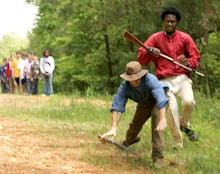 Teaching kids about slavery is an important part of American education. Having them role play as runaway slaves during camp is probably not the best way to do it.
According to the Washington Post, YMCA Storer Camps in Michigan have canceled an activity known as the "Underground Railroad," where children play escaping slaves who encounter camp counselors on horseback — meant to represent slave masters and other runaways — on their path to "freedom."
The activity is designed for 5th graders and older and is meant to be educational. But after her experience at the 2015 winter camp session, 10-year-old Makayla told her mother, Tiffany Birchett, that the activity freaked her out.
"First, I was wondering if this was a ritual that they do to these kids every year they attend the camp," Birchett, who is black, told the Detroit News. "She told me the camp instructors, including some of their teachers, were dancing and happy before they went out to do this slave reenactment."
Other black parents allege their children were asked to play slaves in a simulated "auction block" scenario. The camp doesn't appear to have chosen kids to portray slaves based on their race or gender — children of all backgrounds got the experience — but the subject matter proved uniquely troubling for some black campers.
The ACLU of Michigan first learned of the activity in early February, and wrote a letter condemning it. The YMCA of Greater Toledo — which runs the Storer Camps — responded quickly by halting the activity.
"While we presume the 'Underground Railroad' program was the product of good intentions, it nevertheless was a disservice both to the memory of those who endured the horrors of slavery and to the child participants in the program who left the camp either traumatized or with the misperception that slavery was comparable to an overnight camp adventure," Mark Fancher, staff attorney for the ACLU of Michigan Racial Justice Project and author of the letter, said in a statement.
"We take this very seriously," YMCA of Greater Toledo president and chief executive officer Brad Toft added, according to MLive. "Our intent is to create an environment kids can thrive in, and we would never do anything deliberately to hurt that. We don't want to offer anything that makes anyone feel uncomfortable."
Respectfully teaching kids about slavery and its trauma has proven challenging for many educators. In some cases, it's sparked controversy: A New York City public school math teacher raised eyebrows in 2013 when she assigned her 4th grade students homework featuring slavery-themed word problems:
"[On] a slave ship, there can be 3,799 slaves," one read. "One day, the slaves took over the ship. 1,897 are dead. How many slaves are alive?"
It's clear that a new model is needed for teaching kids about slavery. As it turns out, role playing games at YMCA camp and slave death math problems usually aren't it.
h/t Washington Post