Terry Crews Just Revealed That He's Addicted to Watching Porn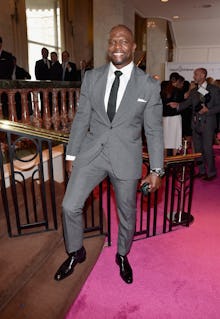 Actor and outspoken feminist Terry Crews has a "dirty little secret": He's addicted to online pornography.
In a short video posted on his Facebook page earlier this month, the Brooklyn Nine-Nine star opened up about his struggles, claiming that for several years, he secretly watched adult entertainment for hours and hours at a time. 
"Pornography, it really, really messed up my life in a lot of ways," Crews said in the video. "It became a thing where I didn't tell anybody. I didn't tell anybody, It was my secret, nobody knew, and that allowed it to grow ... I'm going to tell you something: If day turns into night and you are still watching, you've probably got a problem — and that was me." 
The star claims he was unable to limit his porn consumption, to the point that it ultimately harmed his relationships, especially with his family. Eventually, his wife told him she no longer recognized the person he'd become, making Crews realize he "had to change."
"I realized, yo, this thing is a major, major problem. I literally had to go to rehab for it," Crews said. "The thing I found is that by not telling people, [the addiction] becomes more powerful. But when you tell and when you put it out there in the open, just like I'm doing right now... it loses its power." 
This isn't the first time Crews has spoken openly about his struggles with watching pornography. He wrote about it in his 2014 book Manhood, and admitted on The Wendy Williams Show that he'd been addicted to pornography since he was 12 years old. 
"The pornography addiction turns into something else," Crews said at the time. "You can't have something like that in your life without it growing into something else. Everything grows."
As Crews himself acknowledged in the video, there's widespread skepticism about the existence of porn addiction. While getting hooked on pornography could undoubtedly cause problems for someone, some researchers have argued that there's no scientific consensus as to whether porn addiction is a true physiological occurrence; some say people have used porn as a scapegoat for their own personal issues. Research has also shown that while pornography can affect the brain's response to sexual stimuli, it's unclear if that can result in physical dependency. 
Regardless of whether porn addiction is considered a legit medical condition, however, Crews' message about seeking help when you feel you need it is one that anyone struggling with feelings of dependency might need to hear. 
h/t Uproxx