'House of Cards' Season 4: Recap of Seasons 1-3 to Get You Up to Speed Before Binging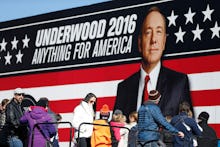 America: Frank Underwood is coming in just over a week. Unfamiliar? Somehow missed all those F.U. 2016 ads during the presidential debate? For those whose memories are foggy and the uninitiated viewers who want to dive in for season four of Netflix's House of Cards, here's a season-by-season recap of everything that's happened on the political drama so far.
Read more: Surprise 'House of Cards' Season 4 Trailer Airs During CNN Republican Debate
Season 1
The opening scene of episode one neatly illustrates what's ahead: When we meet Francis "Frank" Underwood, House majority whip, he is murdering a dog outside his Washington, D.C., home. Underwood is cunning, ruthless and resentful at having been snubbed by newly elected president, Garrett Walker, for the secretary of state nomination. Underwood vows to take down Walker.
He assembles a team of allies: Doug Stamper, his ever-faithful right hand man; Rep. Peter Russo, a hard-partying politician trying to clean up his act; a young reporter named Zoe Barnes, who's frustrated at being continually passed over at the Washington Herald and ready to help in exchange for scoops. It's a mutually beneficial relationship, because Underwood can and does use Barnes' reporting to ouster his political opponents. And also because they're sleeping together.
Underwood sets Russo up to fail not once, but twice: He forces the congressman to violate his campaign promises, which in turn sends Russo into a depressive spiral that Underwood exploits to get Russo to run for governor of Pennsylvania. When Underwood's wife, Claire, torpedoes the bill that is his platform in order to get support for her Clean Water Initiative from natural gas lobbyist Remy Danton, Russo tells Underwood to get lost. Underwood sets him up for a booze binge that ends his gubernatorial bid, so Russo threatens to spill the beans. Underwood then kills him and makes it look like a suicide.
President Walker, meanwhile, needs a new vice president, because Vice President Jim Matthews is now running for the empty governor's seat. He sends Underwood to Missouri to vet billionaire Raymond Tusk for the empty vice president slot. Tusk and Underwood trade support, and the season ends with Underwood accepting the vice presidency.
Season 2
Underwood's first order of business as vice president is to plot his path to the presidency. But Barnes is causing trouble, uncovering the details of Underwood and Stamper's Russo sting. So Underwood takes care of it, e.g., throws her in the path of a speeding metro train. But Barnes' former colleague and, at the time of her death, current lover — Lucas Goodwin — stars digging, aligning with a deep web hacker, eventually getting himself arrested by a horde of FBI agents.
In a less overtly sinister maneuver, Underwood preps Jackie Sharp for the position of majority whip. But his power grab is complicated by Tusk, who has the president's ear. Tusk and Underwood go to war, resulting in a number of underhanded deals involving the laundering of Chinese money.
Tusk hires Danton, who strikes up an affair with Sharp and leaks photos from an affair Claire had with Adam Galloway. Claire has, in season two, gained media attention for her high-profile rape allegation against a military officer. She attempts to push a sexual assault bill through Congress, which fails.
The war for the president's esteem ends with Underwood's victory: Using a burgeoning friendship he's built with POTUS and FLOTUS, he emotionally manipulates Walker into taking the fall for the money laundering scandal. Sharp moves to impeach Walker, he resigns and Underwood becomes president. 
And Stamper? After having fallen for the stripper he and Underwood enlisted to vanquish Russo, he gets in way over his head. She leaves him for dead in the woods, fleeing for her life.
Season 3
The third season of House of Cards opens with President Frank Underwood peeing on his father's grave. He's president, Doug is alive — but not yet back in action. Underwood has relegated him to the rehabilitation realm.
Claire vies for and eventually gets the position of U.N. ambassador, although not because Congress elects her. Underwood makes a special appointment, with the consequence that no one takes her seriously. And yet she goes toe-to-toe with Russian President Viktor Petrov, denouncing him on international television after an American prisoner commits suicide in a Russian prison.
Underwood, for his part, has made America Works his No. 1 presidential issue, despite the fact that next to no one supports him. Because he faces the real prospect of becoming a one-term president but very much wants to be a two-term president, Underwood declares that he will not seek office in the next election and will instead make AmWorks his own personal fuck-it list. He then attempts to settle his potential opponents — Heather Dunbar and Jackie Sharp — in cushy jobs so they won't run against him.
Sharp agrees to launch a fake bid for presidency to pull the women's vote away from Dunbar; in exchange for making herself look a little ridiculous, she gets to be Underwood's vice president if he wins. Stamper, meanwhile, offers his loyalty to Dunbar. He later revokes it in the 11th hour, and also tracks down and murders Rachel.
The Underwood administration suffers some blows in season three: Working off a tip Claire received from the Petrov camp, Underwood sends a SEAL team into the Jordan Valley to investigate a roadside bomb explosion Claire believes Petrov engineered. One of the SEALs died, Claire was wrong and tensions simmer between her and her husband — who, by the way, is busy campaigning for his second term as president. Claire helps him until she gets fed up with winning the office for him and walks out.