8 Healthy Lunch Ideas That Don't Break the Bank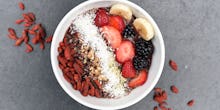 Unsplash
Packing a healthy, wallet-friendly lunch to take to work or school is a constant struggle: Maybe you've got one or two good ideas, but then you totally run out of steam by Wednesday and wind up buying something expensive or snacking on chips and candy.
Don't worry though. We came up with some easy, solid lunch ideas that will last you through the workweek and beyond.
Read: 9 "Healthy" Foods With More Calories Than a McDonald's Big Mac
Breakfast for lunch
When it comes to lunch, think breakfast. Plenty of morning foods also make great packed lunches, like oatmeal or yogurt with fruit, hardboiled eggs or smoothies.
Spreads and dips
Putting a protein-packed spread like hummus in a container along with a bunch of cut-up veggies or pita chips is a snap to prepare. If you want to save some extra money you can even make the hummus yourself using chickpeas, tahini, lemon juice and spices.
PB&J
Don't knock the simple peanut butter and jelly sandwich — it's a lunchtime classic. Elevate your PB&J by upgrading the bread (and toast it a little if you want it to stay crunchy). If you prefer almond butter or jalapeño-strawberry jelly, don't be afraid to get wild with your condiments! 
Pasta/Quinoa salad
Pasta salads are easy to prepare the night before, and you can pretty much throw in anything you want. They're also delicious hot or cold. Try using you favorite pasta as the base, or another grain like quinoa or barley. 
Wraps and roll-ups
Wraps and roll-ups are another lunch that you can basically make using whatever you like (or whatever you have in your kitchen). Turkey? Salad greens? Bell peppers? Swiss cheese? Wraps are almost as fun to make as they are to eat.
Frittatas
Frittatas are easy and quick to make (like quiche without the hassle of the crust!) and you can put all sorts of delicious things in them, like broccoli, cheese, asparagus or ham. Make one the night before work and take a slice in the morning, or make a bunch of mini frittatas in a muffin tin, freeze them, and defrost whenever you need a quick lunch.
Things on sticks
The true key to creative packed lunches is having a pack of skewers in your kitchen cabinet. Everything is better on a stick! Try making skewers with mozzarella, basil and cherry tomatoes, or fruit skewers with pineapple, strawberry and banana. You can also bring your favorite salad dressing as a dipping sauce.
Quesadillas
Quesadillas are almost as great reheated the next day as they are fresh, and all you need to make them is cheese, tortillas and some fun fillings like black beans, avocado, peppers or grilled chicken. Bump it up a notch by bringing salsa or guacamole on the side.