You Can Soon Swap Your MasterCard Password for a Selfie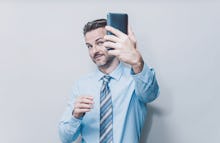 MasterCard is getting all up in your face.
Starting this summer, the credit card company will begin accepting selfies in lieu of passwords, according to a press release issued Monday.
In 2015, MasterCard began toying with the use of facial recognition technology as a safeguard against credit card theft, resulting in the development of "biometric payments."
Read more: Selfie Deaths Have Become All Too Common — The Question Is, Why?
According to CBS, the new technology requires the user to blink while snapping the picture (and flies in the face of everything you thought you knew about the perfect selfie). Blinking, said Vice President of Corporate Communications Jennifer Stalzer, "demonstrates proof of life" — that you aren't just taking a photo of a photo. 
In the release, MasterCard wrote that when they tested the technology with Dutch customers, nine out of 10 of them indicated they "would like to replace their password with biometric identification definitively," while 75% believed the changeover would reduce fraud. The rollout, which includes the U.S., Canada and parts of Europe, will also come with the option to use fingerprints to complete a payment.
"People forget passwords ... so we expect that passwords will slowly become obsolete in favor of a more user friendly alternative, such as biometrical identification," said International Card Services' risk management manager, André IJbema, in the statement.
So there you have it. Another excuse to take a selfie... as if you needed one.