Who Votes on the Oscars? A Quick Guide to the Academy Voting Process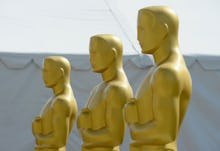 Kevork Djansezian/Getty Images
After weeks of warranted criticism, the 2016 Academy Awards will air on Sunday night — with Chris Rock set to host amid the controversy. Finally, viewers will finally learn which movies and actors were deemed the best of the year by Hollywood's most prestigious academy. Fingers crossed, Leo.
But who actually votes on the Oscars? The industry as a whole places such pride and importance on the awards show — yet as it turns out, the voting process' lack of diversity is nearly as troublesome as its narrow-minded nominations.
Read more: The Oscars Are Nearly as Male as They Are White
The members of the Academy of Motion Picture Arts and Sciences, which reached over 7,000 members in 2015, make up 17 different branches within it. These branches range from actors and writers to producers and makeup artists. Members of the academy are voted in by "sponsorship" from two members in the admission branch — for example, a to-be director member would need the sponsorship of two current directors in that academy branch.
Ultimately, though, the academy's Board of Governors decides which aspiring members will receive invitations.
With regard to the actual nominating process, the majority of the categories are nominated by members of the specific branch (so cinematographers will vote for best cinematography), according to the Oscars voting page. However, all members are eligible to vote for the best picture nominees.
Then, when the nominations are announced, all members of the academy are allowed to vote for the winners in each category. Prior to the awards show, the results are tabulated and held by auditing firm PricewaterhouseCoopers. Ultimately, the company will provide the results in envelopes on the day of the Oscars; hence, the opening of the cards during the broadcast.
However, the voting process isn't all that complicated or controversial — rather, it's the lack of diversity for the Oscar voters that leaves a lot to be desired. In a December 2013 report from the Los Angeles Times, it was revealed that the academy voters are 94% white and 76% men, with a median age of 63. It's so bad, in fact, the Atlantic described it as "the demographics of a New England all-men's bridge club."
In fairness, the academy has since promised to increase its membership diversity by 2020, a promising and necessary move after this year's #OscarsSoWhite dilemma. "There will be change at the Academy Awards," Mic's Kevin O'Keeffe wrote. "Is it an end-all, be-all solution? Of course not. Is it a crucial step forward? Absolutely."
While the diversity in the voting and the categories isn't as good as it should be in 2016, the broadcast will undoubtedly garner millions of viewers — as per usual. In any case, be sure to check out the 2016 Academy Awards this Sunday at 8:30 p.m. on ABC.