12 Kendall Jenner Instagram Photos That Show She's a Top Model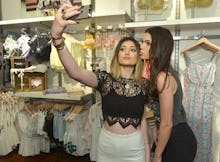 John Shearer/AP
Kendall Jenner, formerly known as Kim Kardashian West's younger sister, has truly taken on a name of her own. The social media star is a headline-producing runway model, a fashion icon and an international supermodel: And she's only 20 years old. 
Jenner is signed with the Society Management, a New York City modeling agency which supplies contracts to some of the most coveted models, and even some of Jenner's best friends, including Willow Smith. Jenner is already picking up countless modeling deals with major brands ands associations in 2016, appearing in American Vogue, the cover of W Korea and in British GQ in March alone. The model and reality TV star is also appearing in a Spring/Summer Calvin Klein underwear campaign and is likely already hard at work on a number of other career endeavors for the new year.
Read more: Here's How Much Kendall Jenner Makes On A Single Instagram Photo
Her portfolio offers a variety of looks, including bleach blonde locks, matte black hairstyles, a slew of clothes representing each season of the year and a number of powerful facial expressions which set Jenner apart from the flock. However, if a major designer happened to be interested in recruiting the California girl for a photo shoot, they wouldn't have to look any further than her Instagram for some inspiration. 
Check out some of Jenner's greatest Instagram posts, just in case you needed any more proof that Jenner is dominating the modeling industry:
Jenner's photo of her lying on the floor with her hair in heart shapes is the most-liked picture on Instagram:
March Vogue
For Calvin Klein
For Mango
For Karl Lagerfeld
For Vogue Brasil
For Topshop
December Vogue
For Victoria's Secret
For Balmain
For Estée Lauder
For Cosmopolitan, With Her Squad