In a Rebuke to Trump, Univision Launches Plan to Register 3 Million Latino Voters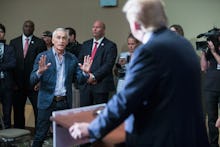 Donald Trump may have pissed off the wrong media conglomerate.
Univision, the Spanish-language broadcast network the Republican presidential hopeful has repeatedly accused of answering to the Mexican government, has launched a new initiative to register 3 million Latino voters before the 2016 general election, according to the Los Angeles Times.
"The network published an online voter guide Tuesday and is partnering with several organizations to register eligible Latinos — a population that has grown 40% in the past eight years alone," the Times reported. "Univision will broadcast public service announcements across its 126 local television and radio stations about the importance of voting, and is enlisting one of its young stars to tell his own story about becoming a voter."
Read more: Hillary Clinton's Campaign Insists She's Like Latina Grandmothers Everywhere
Univision has a vested interest in growing the political power of its audience. But the enrollment push is almost certainly intended as a counterattack on the real-estate billionaire, who alienated Latinos in June by calling undocumented Mexican immigrants "rapists" and "murderers" and has engaged in several high-profile battles with the network.
After the immigrant comments, Univision severed ties with the Trump-owned Miss Universe Organization. Months later, Univision published an open letter denouncing Trump and signed by a group of prominent Latinos. In August, Trump told Univision anchor Jorge Ramos to "sit down" and "go back to Univision" at an event in Iowa when Ramos attempted to ask a question about the candidate's proposed immigration policy.
Univision, for its part, is co-owned by Haim Saban, an entrepreneur who has given over $2 million to Clinton's political campaigns and $10 million to the Clinton Foundation, according to the Intercept.
In an interview with the Times, Ramos said if the registration effort disproportionately helped Democrats, then Republicans had no one but themselves to blame.
"The Republican Party has had an incredible opportunity to reach Latino voters, and they failed," Ramos commented. "You cannot say, 'Vote for me, but I want to deport your mother or your brother.'"
Get the five stories that will challenge you to rethink the world by signing up for MicCheck Daily.