Finally, Leonardo DiCaprio Wins Best Actor at the Oscars for 'The Revenant'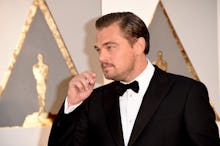 Jason Merritt/Getty Images
It's a win 12 years in the making: Leonardo DiCaprio took home the Academy Award for best actor on Sunday at the 88th annual Oscars. Nominated for his role in The Revenant, DiCaprio has previously been passed over for the honor in a way the internet finds both sad and hilarious.
At the end of the day, he's still a wealthy white man, so any complaints about injustice within the Academy of Motion Picture Arts and Sciences should be taken with some grains of salt. But the win is certainly a long time coming.
DiCaprio, 41, has also won a Golden Globe, a BAFTA and a Screen Actors Guild award for his work in The Revenant. The film puts an end to what's become a tradition of politely applauding his peers and perfecting his gracious loser face. DiCaprio has previously been nominated on four occasions, the first occurring in 1994, for his supporting role in What's Eating Gilbert Grape.
In 1998, DiCaprio was not nominated for his turn as Jack in Titanic, which took home 11 Oscars, including best picture. He was nominated for his starring part in The Aviator in 2005, but lost to Jamie Foxx for Ray. In 2007, he was up for the honor again, this time for his work in Blood Diamond; he lost to Forest Whitaker for The Last King of Scotland. 2007's best picture went to The Departed, in which DiCaprio also acted.
Then there was a long stretch in which DiCaprio was spared the probable agony of having the academy raise his hopes, only to dash them on the floor of Los Angeles' Dolby Theatre. It came to a close at the 2014 ceremony, when he was again up for best actor for The Wolf of Wall Street. He lost to Matthew McConaughey for Dallas Buyers Club.
Congratulations, Leonardo DiCaprio. Fifth time's a charm.