Jamie Foxx Has This Solution for #OscarsSoWhite: "Hashtag Act Better"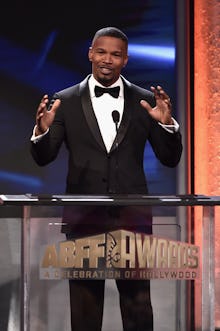 Jamie Foxx thinks he knows the root cause of #OscarsSoWhite, and it's not racism. White actors, he said, are simply better at their jobs.
Foxx made the comment Sunday night at the American Black Film Festival awards that aired Tuesday on BET. And what was ostensibly meant as a lighthearted dig at the controversy surrounding the Oscar nominations which, for the second year in a row, included white actors only, the 2005 Oscar winner's answer to #OscarsSoWhite caught many by surprise.
Read more: The Oscars Are Nearly as Male as They Are White
"Me and Denzel [Washington] were like, 'What's the big deal? Hashtag act better,'" he said of his fellow black Oscar winner, according to Page Six. 
Specifically, Foxx poked fun at Will Smith's Nigerian accent in Concussion. Smith, who says he will boycott the Oscars with his wife Jada Pinkett Smith on account of the lack of diversity, has drawn criticism from some who suggest they're boycotting not on principle, but because Will wasn't nominated.
There were the indignant:
And then, of course, there were the proponents:
And there was this gem:
Joking and jabs aside, however, the nominations reignited the debate about what's widely perceived as entrenched racism in Hollywood. In January, the academy acknowledged the problem, saying it intended to diversify its membership both by replacing lifetime membership with term-limited membership and promising to double the number of women and people of color by 2020.
Get the five stories that will challenge you to rethink the world by signing up for MicCheck Daily.