Hillary Clinton Skirts Beyoncé Controversy Question During CNN Democratic Town Hall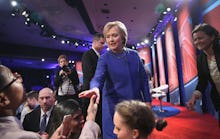 Scott Olson/Getty Images
Democratic presidential hopeful and former Secretary of State Hillary Clinton side-stepped a question about Beyoncé's Super Bowl 50 performance during a Democratic town hall Tuesday. During the event, which CNN organized and Chris Cuomo helmed, a member of the audience asked Clinton to comment on Beyoncé's politically charged performance and accompanying song "Formation" — though really the question challenged Clinton to weigh in on the state of race in America, particularly instances of racial profiling and police brutality. 
Read more: Hillary Clinton Prevails Over Bernie Sanders in Nevada Caucuses
"In the wake of things like Ferguson and Black Lives Matter, and the recent backlash against Beyoncé for her 'Formation' video, there have been a lot of racial tensions recently, in our nation," said audience member Kyla Gray, a student at Columbia College. "What do you intend to do to help fix the broken racial relations in our nation?"
In her response, Clinton did say she strongly believes we as a country need to deal with "systemic racism," which she agreed was omnipresent — in housing, in job opportunities, education and in our criminal justice system. "And it's also cultural," she said.
"We have serious challenges and I think it's important for people, and particularly for white people, to be honest about those," Clinton answered, "and to recognize that our experiences may not equip us to understand what a lot of our African-American fellow citizens go through every single day." 
Yet as a solid response on how to recognize that systemic racism was lacking in the candidate's response, Cuomo pressed Clinton to speak on Beyoncé, "because why not?" Specifically, Cuomo asked Clinton to comment on how some have labeled the star's performance as anti-police.
"There are an enormous number of police officers in our country that perform honorably every single day," Clinton said, calling on the public to respect that service. But in her response, Clinton again skirted a direct comment on the singer. 
"I don't think the answer is to find ourselves in opposing camps," she said. 
Mediaite has the full exchange, and here's the candidate's second response: