Kanye West Slams Taylor Swift and Music Producer Bob Ezrin in Latest Twitter Rant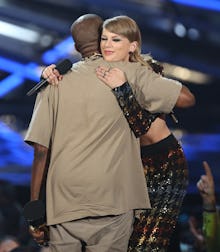 Matt Sayles/AP
Are Kanye West and Taylor Swift high school "frenemies"? In his latest Twitter tirade late Tuesday night, Yeezy went off about music producer Bob Ezrin, who wrote a scathing review of West's music and "sophomoric" artistry, and said he hopes the Pink Floyd producer "never speak in public again." But of course, Yeezy managed to throw a bit of subtweet shade at Swift, his on-again off-again pal who recently picked up her second album of the year Grammy. 
"I made Dark Fantasy and Watch the Throne in one year and wasn't nominated for either," West tweeted. "And you know who has 2 albums of the year," he wrote, an apparent dig at Swift. 
Read more: 12 Recent Kanye West Quotes That Show Yeezy Might Be Having a Breakdown
West was originally directing his message at Ezrin, who deemed the artist unworthy of most of his awards (which include 21 Grammys) in his review for the Lefsetz Letter, a music industry insider newsletter.
We get you're mad 'Ye, but why bring T. Swift into yet another unnecessary Twitter war?
Swift has yet to respond. But just wait on it.