Trumpocalypse: The GOP Establishment's Worst Nightmare Is Now Coming True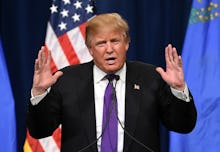 The Trumpening is upon us.
Barring a wholly unforeseen upset, Donald Trump will formally accept the Republican Party's nomination for president at Cleveland's Quicken Loans Arena in July, having vanquished an establishment we were long assured would ultimately prevail over the billionaire populist, once the voting actually started and the rank-and-file came to its senses. 
The real estate tycoon's victory in Nevada's Republican caucuses on Tuesday underscores why this scenario is exceedingly likely to come to pass. 
Read more: Donald Trump Wins Nevada Caucuses, Cruising to Third Victory in a Row
"Winning, winning, winning": "Now we're winning, winning, winning," Trump proclaimed in his victory speech at the Treasure Island hotel in Las Vegas. That was one "winning" for each consecutive victory Trump has scored in the GOP nominating contests, starting with his roaring comeback in the Feb. 9 New Hampshire primary, just one week after his narrow loss to Ted Cruz in the Iowa caucuses.
Though Trump's Silver State victory only netted him 14 delegates — far fewer than the 50 he won in South Carolina on Saturday, and only a tiny fraction of the 1,237 needed to win the GOP nod — it marks a seminal moment in his improbable quest for the presidency.
Propelled by the angriest GOP electorate yet, Trump didn't just win on Tuesday. He thoroughly routed his Republican rivals — an outcome that was by no means foreordained. While Marco Rubio and Cruz had been building conventional campaign infrastructures in the state for months, Trump cruised to victory with 46% of the vote. Rubio, who had hoped his family ties to the state would boost his campaign there, came in a distant second with 24% support, followed by Cruz at 21%.
Those numbers puncture one of the most stubbornly persistent myths about Trump's campaign — that while he attracts impassioned, committed followers, his support hits a ceiling of around one-third of the vote. That might be enough to win contests in a crowded field, the thinking goes, but it'll create a massive headache for Trump once the field winnows.
Among those who subscribe to this theory? Trump's opponents. "Donald Trump's electoral ceiling is in the mid 30s," Terry Sullivan, Rubio's campaign manager, wrote in a post-South Carolina strategy memo. "Simply put, Donald Trump can never get to 50% and only will continue as a front-runner as long as the field is crowded."
So much for that ceiling: Up until Tuesday, Trump's skeptics could point to his early-contest performances to bolster this theory. He won only 24% of the vote in Iowa, 35% in New Hampshire, and 33% in South Carolina. That was enough to give him a healthy lead in the early delegate count, but it fueled doubts that Trump would prevail in a less-congested contest.
Trump's Nevada margin, though, should give his detractors pause. That's not just because he came remarkably close to winning half the vote, or because he won across demographic groups, or because he managed to win more votes than all GOP candidates in the 2012 caucuses combined. More pertinent is what the results say about Trump's ability to grow his support as the race becomes a three-way competition among Trump, Rubio and Cruz.
On that score, the data tell a clear story: Even if the de facto three-way race were to become an actual three-man race, Trump comes out ahead. A YouGov/Economist survey last week found Trump winning 46% of likely GOP primary voters in that scenario, followed by Rubio at 28% and Cruz at 26%. 
A head-to-head contest with Rubio would be more difficult. The most recent NBC News/Wall Street Journal poll shows Rubio besting Trump 57% to 41%.
But the field won't be narrowing to two anytime soon, and Rubio won't even have the establishment lane to himself for at least another few weeks. Ohio Gov. John Kasich plans to stay in the race at least into mid-March, hoping to make a splash in moderate Northeastern and Midwestern states. 
Steamrolling? By that point, Trump will likely have built a delegate lead that would prove exceedingly difficult for his rivals to overcome. 
As the New York Post noted Monday, polling averages put Trump ahead in 9 of the 13 states to vote after Nevada in the next two weeks. The March 1 Super Tuesday contests are virtually certain to be a delegate gold mine for Trump, who will benefit from strong support in the South and Northeastern states Vermont and Massachusetts.
Trump may even upset Cruz in Texas, the senator's home state, next week. The latest polls there find Cruz under 40% and leading Trump by only single digits. Even if Cruz holds onto that lead, the Lone Star State's 172 delegates are awarded proportionally, so a victory there won't come close to propelling him ahead.
Still, some veteran observers wonder whether a concerted, well-funded anti-Trump campaign could prevent the billionaire from growing his support. Don't count on it: Not only have previous efforts to take Trump down failed to stop him from winning three of the first four nominating contests, but as Politico reports, Trump's success is giving GOP megadonors second thoughts about whether it's even worthwhile to try dethroning him.
What's painstakingly clear is that Trump is on the cusp of dislodging the grandees and party elders who mere months ago scoffed at the notion that he'd ever become their standard-bearer.
Get the five stories that will challenge you to rethink the world by signing up for MicCheck Daily.