This Bill Could Be the Legal Breakthrough Sexual Assault Survivors Have Been Waiting For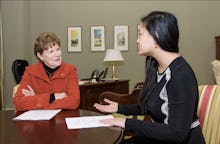 Sexual assault survivors in the United States rarely receive justice. Victim blaming and doubting, inept authority figures and broken paths to justice are all examples of how the system is effectively designed to protect alleged perpetrators. But one 24-year-old survivor, Amanda Nguyen, might just change that.
Read more: Beyond "Mattress Girl": The Case for a More Complex Campus Sexual Assault Media Narrative
On Tuesday, Nguyen partnered with New Hampshire Sen. Jeanne Shaheen to introduce the Sexual Assault Survivors' Rights Act into the Senate, according to a press release from Rise, the nonprofit organization Nguyen founded. The legislation hopes to address the lack of comprehensive, nationwide civil rights protections for sexual assault survivors. As Nguyen stated, "Justice for sexual assault survivors should not depend on geography."
The act, which draws from inconsistent but existing state-specific laws, will ensure survivors access to trained counselors and information about their legal options, according to the Guardian. The bill will also ensure uniform rights related to rape kits, including allowing survivors to preserve their kit for the applicable statue of limitations, notifying survivors when that evidence will be destroyed and allowing them to request its preservation.
This point was particularly crucial for Nguyen, who realized her own activist identity in no small part due to legal struggles related to her own rape kit two years ago, the Guardian reported. After submitting a kit to the state of Massachusetts, Nguyen was told she had to submit an "extension request" to prevent the destruction of this kit in the following six months — despite the assurance of Massachusetts state law that the statute of limitations was 15 years. Nguyen was subsequently told various conflicting things about her kit by police officers and lab technicians.
"The hardest part was realizing that the system meant to protect and deliver justice is broken," Nguyen told the New York Times of the experience. "The system tells survivors to go to authorities to get help. I did that, but navigating the broken system was worse than the rape itself."
Nguyen is hardly the first to experience rape kit-related issues. In fact, as many as 400,000 rape kits remain untested in the United States, according to the White House. Yet DNA evidence collected in rape kits can be key to achieving legal justice by helping to identify suspects in individual cases and potentially help prevent future assaults. Studies show that many rapists are repeat offenders. Facing punishment for one assault based on evidence from a single rape kit could make future ones much harder to commit.
The legislation also aims to help survivors achieve broader legal justice. According to RAINN, 68% of the estimated 23 million sexual assault survivors in the United States will never report the crime. They fail to do so for a variety of reasons, but many are tied to a failed legal system. Although studies confirm that survivors rarely lie about experiencing assault, many survivors have recounted dealing with hostile, disbelieving officers. Many states' laws still don't protect some victims at all — such as those whose assailant is the same sex as them, or male survivors.
"Many survivors choose not to go to the police simply because nothing in the criminal justice process is set up to support them as survivors," Dana Bolger, co-founder and executive director of the national, student-driven campaign to end campus sexual violence, Know Your IX, told Mic in April. 
"Without a clear set of rights articulated in the law, it's difficult for even the best law enforcement professionals to ensure that survivors receive fair, effective, consistent treatment, particularly across counties and states," Shaheen said, according to the statement. "We have to create an environment where survivors feel like the system is working for them, not against."
But this legislation could be the key to upending this toxic, inequitable reality once and for all.
h/t the Guardian