Kesha's 2011 Deposition Video Surfaces Just As She Breaks Her Silence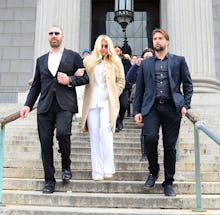 With every new quote and revelation, Kesha's current suit against her producer and alleged abuser Dr. Luke grows more heartbreaking. 
Since Friday's New York State Supreme Court decision, which stymied the pop star's attempt to break her contract with Dr. Luke, the #FreeKesha movement has only intensified. Kesha has been earning support from musicians across the space, even from those who have worked with Dr. Luke, such as Kelly Clarkson, who tweeted, "Trying to not say anything since I can't say anything nice about a person... so this is me not talking about Dr. Luke."
In a long, bold statement tweeted Monday, Dr. Luke stepped up to defend himself. "The only truly objective person who knows the facts is the judge," he wrote. "The judge did not rule in Kesha's favor on Friday."
Now this evidence that "objective person" used has started to leak.
Read more: Dr. Luke Breaks Silence on Kesha Case on Twitter
On Tuesday TMZ shared a "heavily edited" video of a 2011 deposition, obtained through a Dr. Luke source. At the time, Kesha and Dr. Luke were both sued by a manager. While being asked about certain comments she had made about Dr. Luke, Kesha denies under oath that she was ever raped or had any intimate relations with the man she's now trying to free herself from.
"I don't know what my mother told to David," Kesha says during one of the video's telling moments. "I know that Dr. Luke never made any sexual advances at me."
Kesha's mother, who has been extraordinarily active on Twitter trying to keep fans abreast of the case, also appears in the video. She too denies that she had ever been told Kesha had sexual advances made on her or that Dr. Luke had slipped her a date rape drug.
Kesha's lawyer Mark Geragos has come forward saying that prior to this video being made, Dr. Luke had threatened to sabotage her career and harm her physically if Kesha brought up the rape. This claim appears in the current lawsuit as well.
"He's pathetic vermin," Geragos told TMZ. "This guy is nothing more than his generation's Bill Cosby. Interestingly, they both impersonate doctors."
The video dropped the same day Kesha broke her own silence with an Instagram statement thanking her Animals. "The support I have received has left my face swollen from tears," she wrote. "I love you all so much." She promised a larger statement to come.
Watch the full deposition video below.