Adam Levine's New Back Tattoo Took 6 Months to Complete — Here's the Finished Product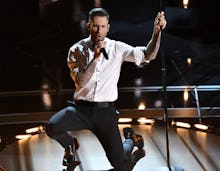 John Shearer/AP
Maroon 5 frontman Adam Levine flaunted fresh ink in an Instagram photo Tuesday — documenting the finished product of a tattoo that took six months to complete. The nautical-themed work of art features a winged mermaid cradling a skull and hovering over an ocean. Credit for Levine's ornate addition goes to tattoo artist Bryan Randolph of Spider Murphy's Tattoo in San Rafael, California.
Read more: 8 Music Videos That Will Give You Major Nostalgia for the Early 2000s
"6 months in the making," Levine captioned in the photo. "Thanks @bryanrandolph for absolutely blowing my mind with this one! Woooo hooooo!!!!"
Levine's fans left comments of support; as of Wednesday, the image had more than 200,000 "likes."
Prior to the final reveal, Levine had shared images of the tattoo in progress. "If you ever want a tattoo and you don't get it from @bryanrandolph... you're nuts," Levine captioned in an earlier post. "He's the DUDE."
Judging by the trail of images Levine has devoted to the making of this back tat, it's clear a lot of thought went into its inception and realization.
It's unclear what exactly inspired the image — though seeing that tattoos can be highly personal and often private (though not in this case), the general public may never know what draws Levine to the sea.
As a bonus, and for anyone looking to relive the glory of the early oughts, here's a young Levine in the music video for "She Will Be Loved," the hit single off Maroon 5's 2002 debut LP Songs About Jane.