The Latest "Diversity" Numbers Are In — Here's How White Fashion Week Was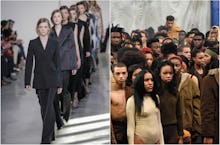 The focus at New York Fashion Week should theoretically be as follows: clothes, clothes and clothes. Who will wear what to the Oscars? What's the next big trend? 
But slowly the conversation has been shifting. In the most recent New York Fashion Week, which wrapped up on Thursday, both industry elite and fans were focused on diversity.
According to the new biannual report compiled by Fashion Spot, that's had an impact. After tallying 120 shows, Fashion Spot found that 68.1% of models walking in NYFW were white, while 31.9% of models were models of color. 
That's up from just 28.4% in September, and up even more from the shows in February, when just 22.6% of all models were models of color. With each season, it seems, things are getting slightly more inclusive.
Fashion Spot has illustrated what exactly that looks like:
Still pretty white? Yes — the yellow in the infographic is overwhelming. But given fashion's long history of exclusion, this qualifies as real progress.
The most recent fashion week standout shows for diversity included Zac Posen's ode to Princess Elizabeth of Toro, for which he cast a runway show that was 87% women of color. At Chromat, 85% of models were nonwhite, an increase from September's already very diverse show. For Sophie Theallet's show, she hired 54% models of color. 
Most unsurprising of all was Kanye West's Madison Square Garden takeover for Yeezy Season 3, for which he hired all models (and nonmodels) of color. 
"While watching the shows, there was a noticeable improvement, and it was gratifying to see that the numbers confirmed that fact," Fashion Spot's managing editor Jennifer Davidson told Mic. "However, there were still some runways that were overwhelmingly white, which shows that designers and casting directors still need to do better."
Those designers include both Rachel Zoe, who hired just two models of color for her 20-woman show, and R13 Denim, which hired just one model of color for their 22-person cast. 
Of course, the numbers don't reflect the true heterogeneity of the runways, in which every color, from darkest to light, is hopefully included. As Mic's Theresa Avila previously noted, "Real diversity doesn't mean upping a count of models of color, from 2 to 17. It means showcasing actual variety, which is the definition of diversity." 
What's promising about these numbers, though, is that they show that some designers are actively taking the initiative to hire an increasing number of models of color. And what's even more promising than that is that Posen, Chromat and West were heavily covered in the press, so the models who walked (or stood, in Yeezy's case) were able to get the most exposure. 
That's the point; while most people in America don't attend fashion week, the images and headlines trickle out, setting the tone for our latest beauty ideals. 
Before Posen even showed, he posted an image of himself carrying a bag with "Black Models Matter" painted across the front. According to these numbers, he's not the only designer beginning to understand that.