7 Blackest Moments That Have Made This the Best Black History Month Ever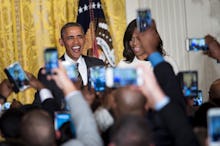 Maybe it's the fact that there are 29 days in February this year, but everything about Black History Month 2016 seems supersized. 
Whether it's music, movies, sports, politics or justice, there's no denying that BHM 2016 will go down in history as the most lit month ever. Here are a few reasons why.
Beyoncé
Where do we start with Queen Bey? We weren't even a full week into Black History Month when she dropped the video for her new single, "Formation," the newest anthem for woke people everywhere. Then she brought an entire squad of Black Panthers-styled back-up dancers to her Super Bowl performance — and easily outshined headliner Coldplay — where she brought the lyrics, "I love my negro nose with Jackson 5 nostrils," into the living rooms of more than 111 million people. 
If that wasn't enough, Beyoncé sparked an angry backlash. Critics called the video and the Super Bowl performance racist and anti-police. However, when Bey haters planned a protest outside the NFL headquarters, a measly three people showed up, and a pro-Beyoncé rally with Black Lives Matter messages were waiting to greet them.
Kendrick Lamar 
Going into the Feb. 15 Grammys ceremony, Kendrick Lamar was a favorite to win the statuette for album of the year for his opus To Pimp a Butterfly. While Taylor Swift's 1989 ultimately triumphed in the eyes of the Grammys, it was Lamar whose electric performance won in the eyes of viewers everywhere. 
Clad in chains with a row of prison cells as a background, Lamar used his performance to make a very political statement about mass incarceration in the United States. He also performed his song "Alright," which has become a protest anthem in the Black Lives Matter movement. He eventually tossed aside his shackles for a tribal, neon-colored number that ended with an outline of Africa projected behind him with "Compton" written across it. 
Hamilton 
The Grammys performance of the hit musical Hamilton truly put the history in Black History Month. The story of the rise of founding father Alexander Hamilton, but with a multicultural cast, Hamilton collides American history with one of America's most beloved musical forms: hip-hop. Black actors give stellar performances, with Leslie Odom Jr. starring as Aaron Burr, Daveed Diggs as Thomas Jefferson and Marquis de Lafayette and Renée Elise Goldsberry as Angelica Schuyler.
When creator, lyricist, composer and star Lin-Manuel Miranda delivered his speech for winning best musical theatre album, he delivered it in a rap. Hamilton also gets bonus points for causing people on Twitter to rage because of Hamilton's skin color. 
Black Twitter 
Black Twitter never disappoints when it comes to poignant, humorous responses to people's tomfoolery and racism. In the last few weeks, Black Twitter has more than showed up for a variety of causes. 
After the Super Bowl, Black Twitter deployed its usual, effective method of dealing with people: drag first, ask questions later. Take the case of Cam Newton. His critics showed up with multiple levels of disrespect, from calling him "boy" to implying he lacked humility.
Here's just one example of Black Twitter's clapback excellence:
It wasn't only football: Cosmopolitan magazine got dragged for implying that "hair tattoos" were a brand new trend too.
Black Twitter also came through with well wishes. On what would've been his 21st birthday, Twitter showed up to pay respects to Trayvon Martin. 
DeRay Mckesson
One of the most visible names in the Black Lives Matter movement, DeRay Mckesson made headlines when he filed paperwork to run for mayor of Baltimore. 
"Baltimore is at a moment," Mckesson told the Washington Post. "I'm running to usher Baltimore into a new era where our government is accountable to its people and aggressively innovative in how it identifies and solves problems."
Not long after, Mckesson began running ads that featured voices from people in Baltimore speaking about the hope he has given them for their city. 
Ava DuVernay
No, she hasn't released a movie in 2016 yet. But thanks to Ava DuVernay, we probably have a whole new way of thinking about how movies are made. Like the Bechdel test before it, the DuVernay test is the new way to judge whether people of color are given fair portrayals in film. 
The test, coined by New York Times critic Manohla Dargis in January, asks whether a movie has two named characters of color who speak to each other and who don't act as background to white characters. Several articles explored the implications of the test in early February. Just to give you an example, of the 78 films nominated for the Oscar for best picture in the last 10 years, only 11 of them pass the DuVernay test. 
DuVernay has also been tapped to direct the Disney adaptation of the novel A Wrinkle in Time.
And the cherry on top of it all is that DuVernay and Creed director Ryan Coogler will hold an star-studded benefit the day of the Oscars ceremony in Flint, Michigan, the site of the ongoing water crisis.
The White House
In what will be his final Black History Month in office, President Barack Obama made sure the White House was very, very black. Where do we begin? Let's start with his "Heeeyyy girl!" comment after a fan wanted to appreciate first lady Michelle Obama's beauty. 
"Heyyyyyyy," the president responded to the person getting the first lady's attention. "We know it is Black History Month when you hear somebody say, 'Hey Michelle! Girlllll, you look so good!'" 
The White House also held a screening of Underground, an upcoming series about the Underground Railroad. Also, legendary dancer Debbie Allen taught a group of young black girls a lesson on African dance inside the president's home. 
That would be enough to make this BHM the best ever, but Obama wasn't done. After that, he danced with a 106-year-old Virginia McLaurin, who was so excited to be in the White House with the first black president that she just had to bust a move. 
And — if that wasn't enough! — Obama responded to the young black girl who famously cried when she heard that his presidency would soon be coming to a close. 
In fact, to be honest, this is how we feel about Black History Month 2016 ending: