America Ferrera Shares Her Experiences Fighting Against Racism in Hollywood Auditions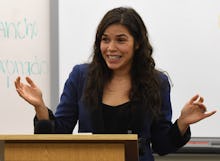 America Ferrera has never been one to censor her thoughts about racism in Hollywood, particularly that experienced by Latino performers. Her candor comes not from a theoretical understanding of the film and television industry's lack of diversity, but from experiencing it firsthand.
In a Wednesday New York Times feature titled "What It's Really Like to Work in Hollywood* (*If you're not a straight white man)," Ferrera and other actors, directors and producers of color speak out about their experiences working in an industry that too often feels closed off to them. Ferrera's quotes focus primarily on her audition experiences.
Read more: You May Not Have Noticed But There Were Almost No Latino Films in 2015
Her first audition came when she was still a teenager. She tried out for a commercial, only to be asked something far too common in audition rooms: "Can you do it again but sound more Latino?"
"I had no idea what she was talking about," Ferrera told the Times. "'You mean you want me to speak in Spanish?' She's like, 'No. Do it in English but just sound more Latino.' I genuinely didn't realize until later that she was asking me to speak English with a broken accent. It confused me, because I thought, I am Latino, so isn't this what a Latino sounds like?"
Two years after that audition, Ferrera faced another such case, in a taped audition this time. She received a note that there was already a Latino actor cast in the film, and thus her chances were slim to none. So she decided to take a stand.
"I defiantly bleached my hair blond, painted my face white and made the audition tape," Ferrera said. She didn't get the part. "Let me tell you: Blond does not suit me. I try not to prove my point on audition tapes anymore."
Ferrera described the situation as feeling "powerless" — that what was keeping her from getting this role was totally out of her control. "What do you do when someone says, 'Your color skin is not what we're looking for'?" she told the Times.
Frustratingly, even Ferrera's allies proved to be against her at times. She recalled an experience with a previous agent who, after the actress won an award at the Sundance Film Festival for 2002's Real Women Have Curves, wanted her to audition for a Latina sidekick part. Unsurprisingly, she left him.
"When I ultimately left him, he [told] another of my reps, 'Somebody should tell that girl that she has an unrealistic idea of what she can accomplish in this industry,'" Ferrera said. "That was someone I was paying to represent me."
None of this, sadly, is surprising. This is an industry that failed to produce virtually any Latino leads in films last year. It can't even remember the difference between Ferrera and fellow Golden Globe winner Gina Rodriguez. Ferrera's stories — and the stories of the others in the Times piece — are a sharp reminder that while every bit of progress helps, there's still a long way to go.