You Might Start Seeing This Dancing Japanese Robot at Businesses in the U.S.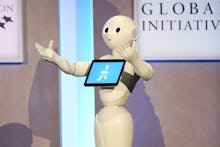 On our way to the Singularity, there will be dancing robots. One such robot may be making its way to the U.S. this year. Known as "Pepper," the humanoid is programmed to be a home-helper and business assistant. 
The robot's parent company, Aldebaran, is currently in talks with some unnamed U.S. businesses to bring Pepper to the U.S., according to a report from Computer World. Once the company rolls out Pepper to U.S. businesses, it would begin planning a consumer offering.  
The bot can dance and hold a conversation as well as act as a reminder system; it also has a tablet that can access the internet and operate apps. But it's most salient quality is its ability to read people's emotions and react in kind. Aldebaran hopes to make Pepper capable of caring for the elderly — a growing population in Japan with little support. 
For consumers, Pepper has a base price of 198,000 yen (around $1,780) in addition to monthly payments of 14,800 yen per month and an insurance plan of 9,800 yen per month for three years. That works out to about $220 a month in addition to the down payment. In total, a person would have to drop around $9,700 to own a Pepper based on current pricing. And that could change. The company hasn't yet revealed what the cost of the robot will be once it comes to the U.S. 
The business version is a bit more expensive, around $490 a month for 36 months, but comes with a range of enterprise software.
As of December, Softbank had sold 7,000 Pepper units, and the company noted it frequently sells out. So far Pepper is appearing in shops as an assistant to consumers, like Softbank's mobile store, in Japan and some European countries. With any luck, Pepper will soon be helping out customers in U.S. stores.