'Black-ish' Will Air Its Most Groundbreaking Episode Yet by Tackling Police Brutality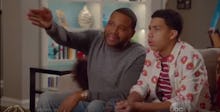 YouTube
Since its first season aired on ABC last year, the family sitcom black-ish hasn't shied away from addressing cultural issues on the show. After all, the premise of the series, now in its second season, is a father, Andre "Dre" Johnson (Anthony Anderson), becoming concerned that his children aren't embracing — and subsequently losing — their sense of black culture by living in a predominantly white, affluent neighborhood. 
However, while black-ish has had compelling episodes, including tackling the use of the n-word earlier this season, its episode airing Wednesday night will confront its most important issue to date: police brutality.
Read more: 'Black-ish' Lives in Its Own Oblivious Fantasyland
The episode, titled "Hope," will have the parents, Dre and Rainbow Johnson (Tracee Ellis Ross) discuss a fictional incident of police brutality regarding a black teenager with their four children, according to Variety. Rainbow is of the mindset that the children should be shielded from the harsh realities of the world, while Dre believes it's important that they understand current social events. 
"Unfortunately the things that we are dealing with in this episode are not new, especially to the black and brown community," Anderson said, in an interview with Variety. "It's something that's been going on for quite some time." 
Police brutality is a hot-button subject in the United States and, as a result, has bubbled up in pop culture. Most recently, the release of Beyoncé's latest single, and corresponding music video, "Formation," led to online criticism, coupled with support, for the way it portrayed the police — using motifs that touch on the recent violence between young black teens and predominantly white police forces.
It was a subject that black-ish creator and executive producer Kenya Barris has wanted to address on the show, based on his personal reflections with his own family. "It was this big division at my house, because I had my feelings that I wanted to spout out," Barris said, in an interview with Variety. "But my wife had her feelings and the biggest thing is, how do you talk about your frustrations and your angers, but at the same time not take away your kids' hope and ability to still want to grow and thrive within a world that they have to live in?"
Furthermore, this isn't the first time that ABC has addressed an incident of police brutality on a program. In March 2015, the drama series Scandal aired a Ferguson-inspired episode on the shooting of an unarmed black teen — again fictional for the purposes of the show's narrative. 
Now, it's black-ish's turn to address the often racist nature of policing in the U.S., and given the show's history of tackling race issues, it certainly seems appropriate. "In creator Kenya Barris' comedic balancing act, this is essentially what black-ish has been leading up to all along, so no pressure for him," Dennis Perkins wrote for the A.V. Club. 
In any case, those interested should tune in to Black-ish's groundbreaking episode, which will air on Wednesday at 9:30 p.m.