Anthrax 'For All Kings': Track List, Streaming and Download Options for New Album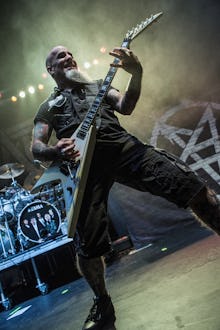 Harmony Gerber/Getty Images
1980s metal band Anthrax will drop on Friday their 11th studio album titled For All Kings, according to Loudwire. Calling it their "most metal album we've ever made," the 11-track LP is available for pre-order over iTunes or Amazon. 
"After 30 years, it means a lot to us," bassist Frank Bello told the website LoudTV, according to Blabbermouth. "So we felt like, as fans, we want to put out the best product, the best music and that's what we think we've finally... After nitpicking these songs... I mean, we really took them apart and really took our time with them."
Read more: Science Proves Young Metal Fans Do Grow Up Into Healthy and "Gainfully Employed" Adults
With help from producer Jay Ruston, Anthrax — Bello, Charlie Benante on drums, Scott Ian on guitar, Joey Belladonna on vocals and Jon Donais on lead guitar — started recording in the fall of 2014, Blabbermouth reported. They recorded about 20 songs, the most ever done for one of their albums, and then cut them down to better refine the album. 
In October, Anthrax released the single "Evil Twin," which denounces political and religious extremists, according to Loudwire. "I was very affected by the Charlie Hebdo massacre as I have been with all of the shootings that have taken place at schools and movie theaters," Benante said, according to Loudwire. "You're no martyrs/ The arrogance to reinvent/ The holy words their meaning rent/ Evil twin," the lyrics say, according to Genius. 
Anthrax's previous album Worship Music came out in 2011, and one track, "I'm Alive," was nominated for a Grammy best hard rock/metal performance. 
Below is the track list for For All Kings, according to iTunes:
1. "You Gotta Believe"
2. "Monster at the End"
3. "For All Kings"
4. "Breathing Lightning"
5. "Suzerain"
6. "Evil Twin"
7. "Blood Eagle Wings"
8. "Defend Avenge"
9. "All of Them Thieves"
10. "This Battle Chose Us"
11. "Zero Tolerance"
Correction: Feb. 24, 2016