5 Kim Kardashian Nude Photos That Prove She Isn't Afraid to Own Her Body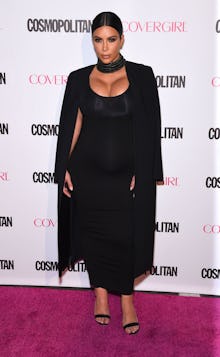 KGC-11/STAR MAX/IPx/AP
Entrepreneur, reality star and mother of two, Kim Kardashian West is one of today's most famous pop culture figures. She lives her day to day under the microscope of a fascinated media and public's eye — and at center stage is often her body. 
Kardashian West's has said her body developed at a young age, which made her insecure. As an adult, her curves, looks and weight sparked long-winded rumors of butt implants and other criticisms. Even while pregnant, Kardashian West was incessantly fat-shamed, the Daily Beast reported. 
"I'm an Armenian girl, I have shape, and it turned out people liked that," Kardashian West told Elle UK in 2014. "That makes me feel good about myself and about other women for being so supportive. I am a confident woman, but I didn't just arrive confident – it has built over the years and that is a big part of who I am now."
Read more: Is Kim Kardashian West Armenian? What the Reality Star Has Said About Her Heritage
Although Kardashian West can't escape the media's light, she's learned to embrace her now-famous curves. "But if you have the power, you can take that power and put out there what you want people to look at," she told Rolling Stone about how the media objectifies women and their bodies in 2015. While her photoshoots and social media images are often considered provocative, to Kardashian West, it's an empowering move at regaining control of her body. 
Below are five times Kardashian West did just that. 
1. Post-baby mirror selfie
While pregnant with Saint West, Kardashian West addressed the criticisms of her body by posting a nude mirror selfie on Instagram. "First they said I'm too skinny so I have to be faking it..." the caption read. "Now they say I'm too big so I have to be faking it...SMH!" Kardashian West goes on to explain that every pregnancy is different, and that "going to get even bigger & that's beautiful too!"
2.  Her cover of Paper Magazine
In 2014, Kardashian West broke the Internet with her cover of Paper Magazine, which highlighted her famous backside. Although the cover received controversy for playing up the objectification and fascination of black women's bodies, Kardashian used it as a chance to be fully confident about her well-known asset and the world's questionable obsession with it. 
3. Her nude desert photoshoot
Last year, a strategically painted Kardashian West went to the desert for a nude photoshoot as a way to face her body insecurities, mainly about having psoriasis, according to the Daily Mail. "So to make myself feel better I lay out all my insecurities before we start a shoot in the hope that no one will be focused on that," she said on Keeping Up with the Kardashians, according to the Daily Mail. "I just want to do fun and artsy things."
4. Her Interview Magazine selfie spread
As the queen of selfies, Kardashian West stripped down for a series of Facetime-selfie shot images with photographer Mert Alas, according to the Daily Mirror. The photoshoot was a part of the magazine's #Interviewgang campaign, in which several celebrities used social media to expose themselves in a more natural light. "We invited each subject to use this opportunity to create something powerful and personal: the utmost expression of themselves..." Interview's editor-in-chief Keith Pollack said, according to the Daily Mirror. "Our aim was to allow them to create an image that reflects the way the subjects see themselves. And the way they want to be seen." 
5. Her W Magazine cover
In 2010, Kardashian West was just Kardashian. In an episode of Kourtney and Kim Take New York, Kardashian lies naked in a pool of silver paint for a W Magazine photoshoot, according to Us Magazine. Once the magazine hit stands, Kardashian broke down crying, claiming that the images looked like "serious porn," and said she felt "so uncomfortable." She also vowed to never get naked again. Flash forward to 2015 (after many other nude images), and Kardashian West reclaimed her early nude photoshoot by reposting an image of it.