Mariah Carey Discusses Her Latino Last Name in This Rarely Viewed Clip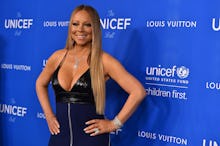 Mariah Carey is one of the most legendary singers of our time with an iconic voice. She sang some of your favorite songs — "Fantasy," "Honey" and "Always Be My Baby."
She is also Afro-Latina, but that's never really been a secret. It's on her Wikipedia and IMDb pages. Carey was born to an Afro-Venezuelan father whose father's name was Francisco Nuñez. 
There isn't much footage of Carey talking about her heritage. But, on Feb. 16, a Carey-dedicated YouTube channel named MariahRaw uploaded footage from an interview in which she discusses the last name. 
Read more: America Ferrera Shares Her Experiences Fighting Against Racism in Hollywood Auditions
It's not clear which television station aired the segment, but it seems to be on a Venezuelan TV program.
"My grandfather came from Venezuela, so I'm gonna try and see if I can, we'll see if I can find some relatives," Carey said. 
The interview, in English, also carries Spanish subtitles. 
"[My grandfather]'s last name was Nuñez," she tells the TV host. "My grandfather made up the name 'Carey,' when he came to America to be more accepted, I guess. But that was funny, because that's an Irish name and Irish people were discriminated against at that time too." 
Carey said the name debacle is why some of her album covers only have her first name. "It's not even my real last name anyway," she said. 
The host introduces her as "Mariah Nuñez," to which she says: "Then I could really be Maria Nuñez!" But, she's just kidding.
"I'll just be Mariah."
Don't know about you, but I can't wait for her new album, Me. I am Mariah. The Elusive Afro-Latina.