These 6 Women Are Terrorists for Wearing a Hijab, According to a US Air Force Policy Paper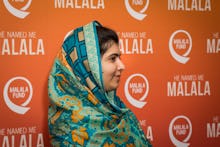 Big news from the U.S. Air Force: If you wear a hijab, you are, in fact, a terrorist.
A policy paper published by the Air Force Research Laboratory in 2011 and cited as part of the FBI's anti-extremist strategy in 2014 features a chapter that introduces the idea of "passive terrorism" — using women who wear the traditional Muslim headscarf known as hijab as examples, according to the Intercept.
Hijab "contribute[s] to the idea of passive terrorism," writes chapter author Tawfik Hamid, a senior fellow at the Potomac Institute for Policy Studies and who describes himself as a former extremist-turned-"Islamic thinker and reformer." 
For Hamid, hijab represents nothing less than an implicit refusal to "speak against or actively resist terrorism." He also cites "sexual deprivation" among young Muslim men as a key factor fueling their support for militancy, in case you thought his ideas weren't dumb enough.
There's no shortage of Islamophobic hacks spewing nonsense into our great American air these days, but few as openly vitriolic as Hamid are asked to contribute to serious, U.S. military-sponsored anti-terrorism strategy reports.
It's unclear how influential Hamid's chapter has been in devising Air Force methods. What is clear is that it probably shouldn't be in such a report in the first place, as it ignores some basic facts: 
1. That embracing extremism stems from a complex confluence of factors, including social alienation and living under extreme infrastructural vulnerability, among others; and 2. that wearing a hijab — much like wearing a yarmulke or the Pope's mitre — simply signifies religious affiliation. Nothing more, nothing less.
Below are some of the women Hamid would categorize as "terrorists," by virtue of their hijab:
Malala Yousafzai
The 18-year-old Nobel laureate who got shot in the face in 2012 by the Pakistani Taliban for standing up for girls' rights to attend school. Definitely a terrorist.
Saba Ahmed
The Republican Muslim Coalition founder who shut down Fox News' Megyn Kelly in November while wearing an American flag-pattern hijab. Terrorism on fleek.
Ibtihaj Muhammad
In August, this world-class fencer will become the first U.S. athlete to compete at the Olympics wearing hijab. Or, is she actually just a terrorist?
Bilqis Abdul-Qaadir
The former NCAA basketball star who holds the all-time scoring record for high school players in Massachusetts. Her jump shot is pure terrorism.
Kulsoom Abdullah
The competitive weightlifter who endured years of legal battles just so she could compete while proudly signifying her religious affiliation. Or, is religious freedom just another word for "terrorism"?
Rabia Chaudry
The immigration attorney and advocate who launched an investigation into the murder case of her family friend, Adnan Syed, and inspired the blockbuster podcast Serial in the process.
Tell us more about these "terrorists," Hamid.
h/t the Intercept
Get the five stories that will challenge you to rethink the world by signing up for MicCheck Daily.