Royal Canadian Navy Sailor Made History When He Kissed His Same-Sex Partner Dockside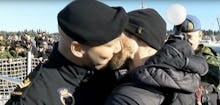 A crowd of onlookers cheered a dockside kiss on Tuesday as a ship full of sailors returned home to Victoria, Canada — but this time, the naval tradition took a nontraditional bend. 
According to CBC, the display was the first of its kind for the Royal Canadian Navy. Photographers captured the moment between Master Seaman Francis Legare and his partner Corey Vautour.
"I have been away for 255 days, so it feels great," Legare told the CBC. "I am speechless."
Read more: The Unexpected Argument Some Feminists Are Making for Keeping Women Out of Combat
"We are reflective of society and we do recruit across all across society," Rear Adm. Gilles Couturier, the Pacific Navy commander, told the CBC. "If we don't adapt, we won't have any sailors joining."
Same-sex marriage has been legal in Canada for more than a decade, and restrictions on military service for gays and lesbians have openly served were lifted in 1992. (For some context, the U.S. ended its "don't ask, don't tell" policy in 2010.)
U.S. Navy petty officers Marissa Gaeta and Citlalic Snell are believed to be the first U.S. navy members to engage in a same-sex dockside kiss since the ban was lifted, in 2011.