8 Nicki Minaj Songs That Prove She's the Queen of Rap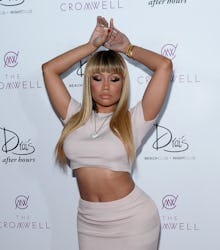 Bryan Steffy/Getty Images
There's no denying Nicki Minaj's current reign over the rap industry — she's the number one female hip-hop artist in the game. Even though the musician has branched out to new endeavors, from being a judge on American Idol to several lines of fragrances and a fashion line, the "Anaconda" rapper has been a mainstay in rap for years.
She's had critical success with pop songs like "Super Bass" and "The Night Is Still Young," but what makes her the Queen of Rap are her more hip-hop focused anthems like the recent "Only," which pits Minaj between two of rap's biggest superstars (and also some of her best pals) Lil Wayne and Drake. 
Read more: Nicki Minaj Reignites Miley Cyrus Feud in "Down in the DM" Remix, Twitter Is Living for It
In case you needed any more proof Minaj is one of the most talented rap artists in the game, check out eight of her tightest rap verses to date:
"Shanghai"
"Only" Featuring Drake and Lil Wayne
"High School" Featuring Lil Wayne
"Want Some More"
"Did It On Em"
"No Love"
"Itty Bitty Piggy"
"Feeling Myself" Featuring Beyoncé
Correction: Feb. 24, 2016
An earlier version of this article incorrectly identified Nicki Minaj as an American hip-hop artist. Minaj is from Trinidad and immigrated to the United States when she was 5 years old.