Drake on Cake: This Instagram Account Puts Drake Lyrics on Cake and It's Perfect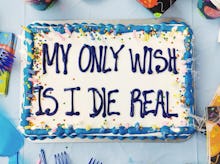 Mic/Instagram
Heavyweight Canadian rapper Drake is notorious for his lyricism, some of which have shown that the "Hotline Bling" hit maker is willing to bare all to his fans. And the lore that surrounds the artist has inspired no shortage of tributes to the rap icon — not least of which is a snazzy holiday-themed sweater. In fact, Drake's lyrics have been an inspiration to many — Taylor Swift once weaved a Drake lyric into a needlepoint present for her contemporary Ed Sheeran. Even famed novelist Salman Rushdie found himself so inspired by Drake's lyricism, that he transformed the rapper's words into poetry. 
And such is the case with one Instagram account that's not to be ignored: @Drakeoncake. The account is exactly as it sounds, and it's every bit as epic as is perhaps expected. 
Read more: If Drake's New Album 'Views From the 6' Is Anything Like the Last, It'll Be a Classic
The mastermind behind the Drake-penned baked creations is Joy Wilson, a baker living in New Orleans. Though Wilson's creations are a joy to behold, under the stand-apart Instagram handle @joythebaker, she proves her talents are varied.
But putting Drake on cake is perfect in its simplistic power — and somehow, as the artist explains, it just feels right.  
"Drake lyrics lend themselves very well to cake messages," Wilson told BuzzFeed. "There's something satisfying in transposing an artist's work into your own medium and discovering what's created in that new space... Everyone has been a Drake fan since the day Drake was born. We just didn't know it until more recently."
To date, the Instagram account has racked up nearly 70,000 followers.
Take a look at Wilson's creations and get swept up by their sweetness. Like the rapper himself says in "Best I Ever Had," "You could have my heart or we could share it like the last slice."