Justin Bieber Poses Nude for the Cover of 'Clash' Magazine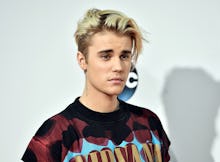 Jordan Strauss/AP
Pop crooner Justin Bieber is back in the news for nude photos — but this time they were taken with his full consent. The 21-year-old singer posed naked for Clash magazine's 100th issue, which will go on sale Friday, according to the magazine's website.
Read more: Justin Bieber Music Videos: A Roundup of Videos That Show How Much Bieber Has Grown Up
Along with the revealing photos, Bieber sat down for an interview with Clash. An Instagram post of the upcoming issue's cover shows Bieber on the beach wearing nothing but a hat. 
In October, photos snapped by paparazzi of a naked Bieber frolicking on vacation in Bora Bora surfaced.
Bieber's look has undergone several transformations over the course of his career, and he seems happy to show it off. "Blondes do have more fun," he told Vice i-D back in November.