Drake Songs Are Viral Memes and This Is What They Look Like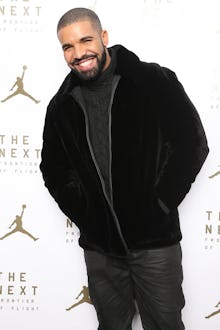 Omar Vega/AP
Drake might be just one of the biggest names in the rap industry, but the internet has found another way to highlight his fame: by producing instantly viral memes based on some of his greatest works. Twitter users will of course remember the "Hotline Bling" phenomenon, in which timelines and feeds were engulfed in endless gifs and clips of Drake dancing interspersed with pizza rolls, money bags and tennis rackets, among other props. 
Perhaps Drake is aware of how easily gif-able his dance moves are, or just has a knack for delivering exactly what the internet wants. Regardless, there's just something so enticing about turning his lyrics into hilarious memes. 
Read more: The Delay of Drake's 'Views From the 6' Is Producing the Best Memes on Twitter
And even when he isn't churning out music, memes are still created in his honor. Check out some of the internet's greatest memes, inspired by Drake's lyrics and super hits. 
"Hold On, We're Going Home"
"Just hold on we're going home/ Just hold on we're going home/ It's hard to do these things alone/ Just hold on we're going home"
"Started From The Bottom"
"Started from the bottom now we here/ Started from the bottom now the whole team fucking here/ I done kept it real from the jump."
Especially relevant to those who truly made it:
"0 To 100/The Catchup" 
"Fuck being on some chill shit/ We go 0 to 100 niggas, real quick/ They be on that rap-to-pay-the-bill shit/ And I don't feel that shit, not even a little bit."
Here's what going from zero to 100 miles per hour real quick would actually look like:
"Hotline Bling"
"You used to call me on my cellphone/ Late night when you need my love/ I know when that hotline bling/ That can only mean one thing."
Even presidential candidates are getting in on the Drake memes:
"Worst Behavior"
"On my worst behavior, no?/ They used to never want to hear us, remember?/ Motherfucker never loved us, remember?"