This Australian School Is Keeping the Uniforms — But Ditching the Gender Uniformity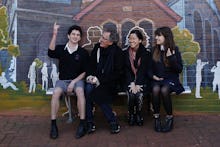 Students at Newtown High School of the Performing Arts in New South Wales, Australia, are reshaping the concept of school uniforms.
After students urged the administration to revise its uniform policy, the school enacted a more gender inclusive one last week.
Read more: Teen Protesting Her School's Dress Code Was Forced By the Principal to Kneel 
Previously, students wishing to wear "cross-gender" uniforms required written permission from their parents and a psychologist. Jo Dwyer, an 11th-grader who lobbied for the measure, told the Sydney Morning Herald the measure "wasn't really a possibility for some students whose parents aren't supportive of their gender identity."
Twitter users rejoiced that the school was taking a step in the right direction:
The policy outraged some groups. Wendy Francis, spokeswoman for the Australian Christian Lobby, told the Herald, "To encourage a guy to wear a dress would just be setting him up for bullying."
Francis re-emphasized the group's stance to Vice: "These gender theory ideas go way beyond anti-bullying to almost proselytizing."
While Newtown is the first Australian school to adopt the gender-neutral stance on uniforms, according to the Herald, the Safe School Coalition in Australia is encouraging all schools to follow suit (or dress).
"For students affirming an identity that is neither male nor female, provisions could be considered by the school for the student to wear elements of the uniform they feel most comfortable with," the coalition stated on its website. 
h/t Jezebel