Kanye West Accuses the Grammys of Racism — And Announces New Album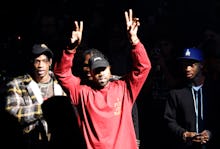 Race has been one of the biggest issues in this year's award season. 
In movies, the hashtag #OscarsSoWhite made a vehement return, after the Academy failed to nominate a single person of color for their acting awards.
In music, Kendrick Lamar brought the issue to the Grammys stage with an epic performance of his protest hymn "Alright." His loss to Taylor Swift for album of the year reminded the world how limited the Grammys' understanding of what constitutes a success in hip-hop is, and how few people of color have taken home the night's biggest awards.
However, this struggle may all be about to change, because Kanye West is on the case.
In his latest twitter rant Wednesday, West took to the Grammys to task, calling out the awards for having terrible taste and for honoring only a certain type of black performer.
West's plan for changing the Grammys begins with highlighting the performers they've been overlooking — namely, Future, Young Thug and A$AP Rocky. 
He pulled a belated "I'ma let you finish," like he did at the 2009 MTV Video Music Awards when he snatched the mic from Taylor Swift to hype up Beyoncé's "Single Ladies" video. He tweeted that A$AP Rocky's "LSD" video, directed by Dexter Navy, should have won video of the year hands down.
"Us real music guys want to have fun too," Kanye explained, before reminding the world that rock 'n' roll was originally a black genre and laying out his priorities in fixing the show.
The issues he's laying out are vastly important. Out of all the Grammys' albums of the year, only 25% have been taken home by performers of color, according to Fusion. And yet nearly every popular music genre we enjoy today was pioneered by black artists. However, the boisterous way he's going about leading the conversation has been producing some serious eye rolls from his followers.
However, West stood his ground, arguing that the world needs someone to speak out and speak "his truth."
West wrapped up the tweetstorm with two huge announcements, one more realistic than the other: free Adidas Yeezys for all, and a new album coming this summer. He insists neither claim is a lie. Yeezy season approaches once again, much faster than anyone could have expected.
Correction: Feb. 24, 2016