Another Trans Person Was Found Dead in Texas and We Need to Talk About It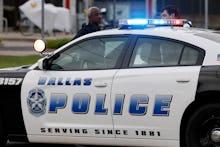 Texas is the scene of a disturbing trend. On Friday, Veronica Banks Cano, a transgender woman, was found dead in a San Antonio motel bathtub, making her the third known trans person of color to die or go missing in the state this year.
Authorities said Cano's body was found in a partially full tub, fully clothed and with no apparent signs of trauma, local television station KABB reported.
Read more: This Powerful Artwork Will Show You What It Means to Be Transgender and Resilient 
On Jan. 22, 43-year-old Latina woman Monica Loera became the first trans person of 2016 to be killed when a man shot her at her home in Austin. Local media outlets used male pronouns to refer to Loera in their initial reporting.
Days earlier, Dallas resident Nino Jackson, a 26-year-old trans black man disappeared; about three weeks later, authorities found his body in a lake. A spokesperson for the Rowlett Police Department said police believe it was a suicide.
2015 marked the deadliest year on record for the trans community, with 21 deaths, according to Advocate. Most of the deaths were trans women of color. 
"We need to be able to have people know who transgender individuals are," activist Lou Weaver told KEYE following Loera's death. "If they could get to know who Monica or myself are, that would demystify the transgender myth and decrease violence."
Cano's friends and family have launched a GoFundMe campaign to cover the cost of her funeral.