Park County, Colorado, Shooting Leaves Sheriff Dead, Others Injured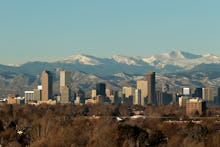 Charlie Riedel/AP
A sheriff's deputy for Park City, Colorado, was fatally shot on Wednesday, the Denver Channel reported. Two other officers were also injured, and one suspect was reported dead, according to the local outlet. At the time of the shooting, which erupted at around 9:30 a.m. local time, the officers were attempting to serve an eviction notice at the Friendship Ranch Subdivision in Bailey, Colorado, which is located Southwest of Denver. 
"It's a very fluid situation," said Colorado Bureau of Investigation spokeswoman Susan Medina, according to the Denver Channel. "It is a dark day. Right now what we can do as a community is come together."
According the the Jefferson County Sheriff's department, the weapon used in Wednesday's shooting was a rifle.
The two injured officers were admitted to St. Anthony's Hospital in Lakewood, and one suffered life-threatening injuries, according to the Denver Channel. And though the names of all the officers and the identity of the suspect remained unknown, the slain officer had worked for the sheriff's office for more than a decade.
The shooting happened at 36 Iris Drive, and authorities say the area has since been secured, though Jefferson County's SWAT and bomb team had been deployed to the site of the crime. "There is NO danger to the public," read one tweet on Wednesday from the Jefferson Country sherif's department.
In the hours after the incident occurred, residents and reporters shared images of the scene to Twitter. 
Speaking to the Denver Post, one local business owner said he was surprised by Wednesday's violent outburst at the Friendship Ranch Subdivision, an area he said was typically quiet. 
"I usually hear horses making noise and livestock," Friendship Ranch resident Jeff Scott told the Post. "Certainly not gunshots other than people doing target practice."
Feb. 24, 2016, 4:00 p.m. Eastern: This story has been updated.