Adele Comes Out in Support of Kesha Onstage at the Brit Awards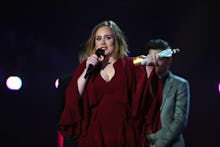 The reigning queen of blue-eyed soul and current holder of nearly every single and album sales record in pop history, the flawless Adele, has come out in support of Kesha as she continues her public face-off with her producer and alleged abuser Dr. Luke.
Adele kept her shoutout short and sweet. While accepting an award for best solo artist at the 2016 Brit Awards — essentially the British Grammys — after thanking her "management and her record label for embracing me the fact that I'm a woman, and being encouraged by it," she said. "I'd also like to take this moment to publicly support Kesha."
She didn't even need to drop the mic. Her words were epic enough.
Read more: Kesha Releases a Full Statement Dedicated to Victims of Sexual Abuse Everywhere
Adele's words come on the heels of a long list of celebrities who have also shown support for Kesha. Lady Gaga, Demi Lovato, Grimes, Lily Allen and Lorde all offered encouragement following Friday's court decision to deny Kesha's injunction to break her contract with Dr. Luke, forcing to continue to make music for the man who allegedly emotionally, physically and sexually abused her.
Taylor Swift also donated $250,000 to support Kesha with any expenses during this "trying time," as a Swift's spokesman phrased it. Additionally, Swift collaborator Jack Antonoff and producer Zedd both offered Kesha their services if she wants to work on some music and leak it — though admittedly, that process is not so simple.
Adele's words may speak louder than any of these offers, though. She is undoubtedly the crown jewel in Sony's crown. Her record 25, which sold 3.38 million copies its first week, helped Sony gain $3.3 billion of market value at the end of 2015. It's interesting she would follow up her thanks of her label by standing with the woman facing them in court.
If Adele is not happy with Sony, the company has a lot more to lose than the public's favor.