Adele Takes Home Multiple Brit Awards, Slays the Red Carpet and Supports Kesha in a Speech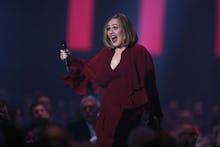 Joel Ryan/AP
Just another day for Adele. The British vocal powerhouse raked in some of the biggest awards from Wednesday night's 2016 Brit Awards, taking home the trophy for best female singer, best single and global success, according to the BBC.
She also made a point to publicly support the embattled musician Kesha who was denied the ability to break her contract with Sony after alleging music producer Dr. Luke sexually assaulted her — right in front of a table of Sony executives and producers. "I just want to thank my manager and my record label for embracing the fact that I'm a woman and being encouraged by it" Adele told the crowd, according to the Independent. "I'd also like to take this moment to publicly support Kesha."
Read more: Adele Explains to Ellen DeGeneres What Went Wrong With Her Grammys Performance
Talk about queen status. 
"To come back after so long away and be so warmly received means so much," Adele also said while accepting an award Wednesday night. "Not bad for a girl from Tottenham who doesn't like flying!" She said, laughing as the crowd continued to cheer. The "When We Were Young" singer is still basking in the success of her latest album 25, readying a world tour, performing on various talk shows and, of course, slaying red carpets everywhere in the process. 
The artist lit up Twitter Wednesday as she arrived at the Brit Awards, stepping out in a red empire waist dress with flowy ruffles and flared sleeves by Giambattista Valli. 
The show opened with Coldplay, with additional performances from Rihanna and Justin Bieber. But all Twitter was talking about was Adele: