If You Want to Get Laid on Tinder, You Should Pretend to Be an Airline Pilot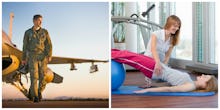 Boys, dust off your Halloween airline pilot costumes. 
On Wednesday, Tinder, one of the most popular dating apps in the world, released data from the last three months regarding professions that are most likely to get a right swipe. According to the list, which was broken down by gender, the most successful job for men was airline pilot; for women, it was physical therapist. 
Read more: Tinder Tried To Make Me A Dating Success Story. Here's Why I Hate That
The survey calculated the desirability of each job based on how many Tinder swipes they got. According to the data, the top three sexiest careers for women were physical therapist, interior designer and founder/entrepreneur. For men, they were airline pilot, founder/entrepreneur and firefighter. 
Depressingly — but perhaps not too surprisingly — men found female nurses sexier than female doctors. While doctor came in fourth place on the list of sexiest jobs for men, it didn't even make the list of hot lady jobs. 
Tinder isn't the first dating platform to synthesize its user data like this. In 2015, WhatsYourPrice.com, a site that essentially allows you to buy dates, released a list of what professions were associated with men getting more dates. The top three? CEO/entrepreneur, financial advisor and software developer. (Though that might just be because people with those jobs are more likely to make more money.) 
Hinge did something similar with tech company employees in July 2014, with Amazon coming out on top and Apple ranking on the bottom.
You can read the full list of hot professions here. 
h/t BuzzFeed