'Spotlight' Wins Best Picture at 2016 Oscars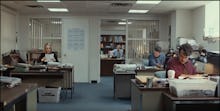 YouTube
At the 2016 Academy Awards on Sunday, the most coveted award of the evening — best picture — belonged to the investigative journalism drama Spotlight. The film, led by a talented cast featuring Mark Ruffalo, Rachel McAdams and Michael Keaton, took the prize over the seven other nominees in the category: Brooklyn, Mad Max: Fury Road, The Big Short, Bridge of Spies, The Martian, Room and The Revenant.
For a movie etched in realism with the day-to-day grind of what the investigative journalists went through to expose child sexual abuse within the Catholic Church, it's a worthy and fitting award on Hollywood's biggest stage.
Read more: This Is What the Oscars Can Actually Do to Prevent #OscarsSoWhite From Happening Again
The film follows the Boston Globe's "Spotlight team," the paper's investigative unit, as they uncover widespread accounts of child sexual abuse by people associated with the Catholic Church, including priests. The unit goes through an extensive search for answers, with the corresponding report earning a Pulitzer Prize in 2003.
Among the niche genre of movies based on journalism — through real events or otherwise — it's already considered a classic by critics. Now, with its Oscar win, those sentiments are only amplified.
"[Director] Tom McCarthy's movie doesn't turn its journalists into heroes," Ty Burr wrote for the Boston Globe. "It just lets them do their jobs, as tedious and critical as those are, with a realism that grips an audience almost in spite of itself."