Rihanna's Performance at the Brit Awards Featured Drake but Some Viewers Weren't Impressed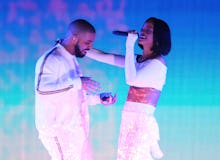 David M. Benett/Getty Images
At the Brit Awards on Wednesday night, pop-star Rihanna took the stage to perform two songs, "Consideration" and "Work," the Telegraph reported. Drake joined her onstage, sporting an all-white outfit that matched RiRi's.
Read: The Secret Meaning Behind Coldplay, Bruno Mars and Beyoncé's Halftime Performance
Social media users took to Twitter to respond to Rihanna's performance, and the reactions were largely positive:
Although some thought that Rihanna seemed a little lackluster:
And some people had stuff to say about Rihanna and Drake's dirty dancing:
Well at least they seemed like they were having fun up there.