The 5 Best News Apps to Help You Become the Best Informed Version of Yourself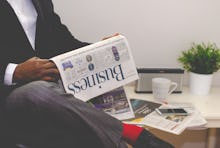 Olu Eletu/Unsplash
We get it: It's tough to grab a newspaper or sit down for the evening news when you're constantly on the go. However, staying informed has never been easier now that there are a slew of news apps that'll allow you to read the day's top stories on your smartphone. These are some solid ones for on-the-go news reading.
Read more: 10 Best Apps for Productivity You Can Use on Your Smartphone So You Can Never Stop Working
1. Pocket
Pocket is a choice app because it knocks down perhaps the single largest obstacle to modern news consumption: lack of time to read the articles, watch the videos. Pocket basically saves all your tabs for later reading — say, on the commute home. Optimal convenience, clean presentation — an overall winner.
2. NYT Now
Finally: access to a spread of articles from the paper of record — for free. NYT Now has fewer articles than the New York Times app, but presents the need-to-know from both the Times and other publications. It refreshes regularly, so you'll always be informed.
3. SmartNews
This app uses SmartView technology to eliminate loading time, so articles are ready to read as soon as you tap the screen, even without a signal. It's a good choice for people who like trending news. Users can choose their topics of interest and add favorite publications, while algorithms predict what that user will want to read to curate the page. SmartNews is quick and easy, putting all the news into one easy-to-navigate app.
4. Flipboard
This app is the intersection of news and social media, allowing users to create magazine-like collections of articles, profiles, blog posts, videos and more on their smartphones. There's a wealth of respected news sources on Flipboard, which users can style to their tastes. Interactive and informative. 
5. MicCheck
A little self promotion is okay, right? Especially in this case, when the app in question — MicCheck — is a good one. It's Mic plus an array of top notch publications. MicCheck gives you politics, breaking news, science, music, arts, dating, style, LGBTQ issues, tech and the best of the web, all in one place.