Justin Bieber's Brit Awards Performance Was Literally Fire (and It Scared Adele)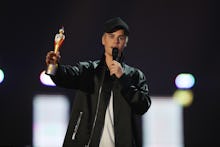 Joel Ryan/AP
Pop star Justin Bieber had a big night at the Brit Awards on Wednesday — the 21-year-old singer performed two of his latest hits before also taking home the award for best international male solo artist, reported the BBC in a tweet.
"Man, I'm shaking a little bit right now," Bieber said as he accepted the award. "Life is a journey."
Read: The Secret Meaning Behind Coldplay, Bruno Mars and Beyoncé's Halftime Performance
Earlier in the night, Bieber performed a stripped-down version of  his song "Love Yourself" accompanied by "Hold Back the River" singer James Bay on the guitar. 
Then Bieber launched into a pumped-up performance of "Sorry," complete with pyrotechnics and a crew of backup dancers.
But the spectacle had at least one famous audience member a little on edge. "I thought you were going to set us on fire though, Justin," Adele said when she took the stage to accept her own award.