Are the Oscars Racist? Here Are the Startling Numbers Behind the #OscarsSoWhite Strife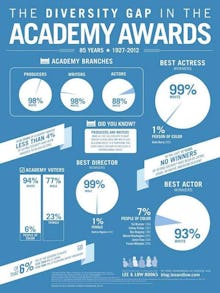 Twitter
Not one nonwhite Academy Award nominee was announced in any of the four acting categories for the second year in a row. So naturally people are asking: Are the Academy Awards racist?
Terms of Endearment actor Danny DeVito seems to think so.
"We are living in a country that discriminates and has certain racial tendencies which — racist tendencies — so sometimes it's manifested in things like this and it's illuminated, but just generally speaking we're a racist — we're a bunch of racists," the 71-year-old actor said at the Sundance Film Festival, according to the Independent. "It's unfortunate that the entire country is a racist country.
"This is one example of the fact that even though some people have given great performances in movies, they weren't even thought about."
Read More: #OscarsSoWhite Exposes Oscars' Lack of Diversity in The Best Way Possible
DeVito, along with other prominent names in the film industry, have spoken up to condemn the awards ceremony for the lack of diversity or even vowed to boycott. But the Oscars snub prompted a visceral response online, and a captivating hashtag.
April Reign, a lawyer and managing editor of Broadway Black, created the hashtag #OscarsSoWhite to shed light on the diversity gap.
"I started the #OscarsSoWhite hashtag to bring attention to the fact that, once again, there is a lack of diversity and representation of people of color in the Oscar nominations," Reign told Mic in January 2015. "Both in front of the camera and behind, people of color are not being recognized by the academy for their outstanding achievements in film. There also seems to be a disconnect; how can an important movie like Selma be nominated for best picture, but none of the major facets of the film (director, actor, actress, screenplay, etc.) receive a nomination?"
So are the Oscars racist? The numbers are shocking.
According to a 2012 Los Angeles Times report, the Academy Award voters are nearly 94% white and 77% male, an odd statistic considering 46% of all ticket buyers were people of color and primarily women in 2013, according to the Motion Picture Association of America. Blacks make up about 2% of the academy, the Times found, but they aren't alone: Latinos come in less than 2%.
"The Times found that some of the academy's 15 branches are almost exclusively white and male," Los Angeles Times reported. "Caucasians currently make up 90% or more of every academy branch except actors, whose roster is 88% white. The academy's executive branch is 98% white, as is its writers branch."
Only 7% of best actor winners have been black men since the inception of the Oscars, the Huffington Post reported in February 2015. In the last 37 years, 11 black American actors have won an Oscar, with nearly 40 nominations, Rod Liddle wrote for the Spectator.
One statistic the Huffington Post reported is fascinating: Throughout the entire history of the Academy Awards, Halle Berry is still, to this date, the only black woman to win best actress. Berry won for her performance as Leticia Musgrove in the 2001 film Monster's Ball.
"I believed that in that moment, that when I said, 'The door tonight has been opened,' I believed that with every bone in my body that this was going to incite change because this door, this barrier, had been broken," the 49-year-old actress said at the AOL Makers Conference in Rancho Palos Verdes, California, in early February, according to Pop Sugar. "And to sit here almost 15 years later, and knowing that another woman of color has not walked through that door, is heartbreaking."
Academy president Cheryl Boone Isaacs — who, ironically, is the first black woman to hold that position — was vocal about the diversity gap. In a statement, the academy announced its goal to double the number of diverse members by 2020.
"The academy is going to lead and not wait for the industry to catch up," Isaacs said. "These new measures regarding governance and voting will have an immediate impact and begin the process of significantly changing our membership composition."