What's Holding Up Cuba's Breakthrough Lung Cancer Vaccine in the US?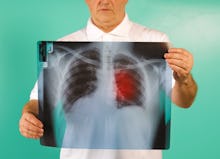 In April, doctors brought home a thumb drive containing the documents needed to apply for FDA approval to trial a life-saving lung cancer vaccine in the lab. Almost 11 months later, the trials still haven't begun. 
It all started when representatives from Roswell Park Cancer Institute in Buffalo, New York, visited Cuba with New York Gov. Andrew Cuomo. They came home with the thumb drive and an agreement from Cuba's Center for Molecular Immunology to start preclinical testing of CimaVax, a vaccine that has been used to treat 5,000 cases of lung cancer worldwide, USA Today reported.
Here's how it works: Instead of targeting specific cancer cells, the drug starves out the cells by hunting down and depleting a devious protein called epidermal growth factor, or EGF. 
The drug's concept is a brilliant example of outside-the-box thinking that exemplifies Cuba's unorthodox medical progress over the past half century. The institute's researchers were excited for the chance to host the trials and explore not only the possibilities of CimaVax but whatever else Cuba's burgeoning biomedical field had up its sleeve.
If the approval goes through, it could open the floodgates to many other promising medications the U.S. doesn't yet have access to. So what's holding it back? 
First of all, there is no established protocol for accessing drugs from Cuba, the way there is for Danish or Canadian pharmaceuticals, according to Johnson. For the U.S. Food and Drug Administration, Cuban drugs represent a new ballgame.
"The process involves just tons of documentation about the drug," said Candace Johnson, CEO of Roswell Park Cancer Institute, who was on the Cuba trip in April. "We do this with drugs made domestically all the time, and when the stars are aligned, it can take just a few months," she told Mic. "But that's when the FDA knows about the other country's 'FDA.' They don't know anything about Cuba."
According to Johnson, the FDA wants to know the safety profile for the agent, how it's manufactured, who does quality control, what they want to do with it and how they ensure the safety of the patients in the trial. Sometimes, depending on the case, that approval can take as long as a year to receive. Johnson and her team at Roswell Park just hope it's sometime in 2016 — not just for their own use, but for the lives this medicine could save on U.S. soil.
We need better treatment for lung cancer — and it exists. In 2015 an estimated 157,499 people in the U.S. died from lung cancer. The U.S. badly needs new methods of treating its No. 1 cause of cancer death — and CimaVax isn't the only cancer-fighting medication Cuban medical institutions can offer us. 
"They have one called racotumomab, a vaccine approach that might have effects in lung cancer and multiple myeloma," Johnson told Mic. Even CimaVax, which is most hotly considered for lung cancer, has applications in any tumors that make EGF. That includes breast, head and neck, colon and pancreas cancers, too. According to Johnson, the Cuban biomedicine industry has a lot to offer. "And this has been going on long before Fidel Castro," she told Mic.
It's natural for a drug-regulating agency to exercise caution when receiving medication from what was previously a taped-off country. But the FDA has a track record of shuffling its feet. When the Gates Foundation announced a competition to design a better condom in 2013, the winning designs never made it from trial to market thanks to an extended, years-long process and funding their creators couldn't afford — even after the Gates Foundation's $100,000 seed fund and bonus $1 million.
That was just for a domestically created contraceptive device. There's no telling how long it will take to receive life-saving medicine from a country with no FDA reputation. That's why, according to Johnson, the Roswell Institute is sparing no detail before sending in its application: To treat its patients as soon as possible, it needs to get the application right the first time.
And hopefully Johnson and her team does. Because without medicine from Cuba, the U.S. is holding back progress within its borders. Meanwhile, Americans continue to die while potential solutions exist.
Correction: Feb. 25, 2016