The Kim Kardashian Age: When Did It Begin and When, Oh When, Will It End?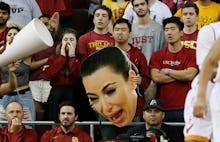 Danny Moloshok/AP
The answer to both questions posed in the headline is, arguably, "with the media." Kim Kardashian West's pop cultural reign — what we will call, for the purposes of this exercise, the Kim Kardashian age — probably began when news outlets just like this one began covering her every move, a phenomenon that does predate this particular site, but in which we now fully engage. 
Read more: The Science of Why We Can't Stop Looking at Kim Kardashian
There's no way of know when the age of Kim Kardashian will end, but as the theory goes, in order to understand where we're going, we must know from whence we came. So in the interest of knowing when we'll be freed from the binding ties that are Kimye's respective Twitter accounts, let's explore the timeline that led us to this present day, beginning with the moment Kim got famous.
1994-1995: Robert Kardashian is one of O.J. Simpson's lawyers in the trial of the century. As demonstrated by The People v. O.J. Simpson: American Crime Story, the Kardashian siblings' first taste of fame came when their father signed onto the dream team of defense attorneys. Whether or not the limelight on the Kardashian family was as bright as the show suggests is unclear; rather, the show seems to capitalize on the Kardashian name's caché. 
Kim did not become famous in the early 90s, but she may have realized her potential to do so at/around this time.
2000-2003: According to the New York Post, Kim began flipping designer shoes on eBay while married to her first husband, music producer Damon Thomas. She gained notoriety as the "Queen of the Closet Scene," which is fame of a sort. As the Post reported, she cleaned out the wardrobes of a number of celebs including Cindy Crawford, Serena Williams and Brandy — who may or may not be the missing link to her fame.
Kim became Brandy's stylist ca. 2003. That's how she met Ray-J, Brandy's brother.
2003-2006: These were the Paris Hilton years, the precise beginning of which is hazy, but likely landed somewhere in 2003 when, according to the Post, she signed on to organize Hilton's closet. Thereafter, she was Hilton's assistant — her "closet organizer/punching bag/silent friend" on The Simple Life, in the words of the Daily Beast's Amy Zimmerman. 
The fame-launching moment in the Hilton-Kardashian friendship may have come in 2005, when Hilton took her new BFF — "whom we had never seen before," according to TMZ — to an L.A. nightclub, snubbing Tara Reid and making a paparazzi moment.
2007: Hilton's own sex tape scandal broke in 2004, and was well-in-the-past when Kim had one of her very own. In 2007, a tape she'd made four years previously with then-boyfriend Ray-J leaked, allegedly because Ray-J himself leaked it as a career-saving stunt. Rather than rocketing him back to permanent celebrity, it launched Kim's career: She made piles of money, and that same year, appeared on her own reality TV show, Keeping Up With the Kardashians. 
2007 was, then, a pivotal year. Kim, was at this point, famously famous for no apparent reason. But she was still far from her present status. Unlike Taylor Swift, Kim may actually owe a slice of her superstardom to Kanye West. Maybe.
2010: Kim and Kanye first met in 2004, according to Bustle, while she working as an assistant for Brandy — who was in the studio recording with Kanye. According to Amber Rose, Kim and Kanye starting hooking up while she and Kanye we still together, so, timeline hazy. 
2012: Kim and Kanye are dating and the world is watching. While the Kardashians remained coy about the whole thing, according to PopSugar, by April, the pair was walking openly in the streets of NYC as NYC-based couples do. By July, they were going on vacations, which gave us this tremendous photo, which will never not be funny. 
2012 was also the year Kim K started her Instagram account and sharing her selfies with the world. This is important. 
2013: This was the year that Kim gave birth to her first child with Kanye, North West. With the birth of unusually named celebrity baby, Kim gains media attention, also fame.
She is still flooding Instagram with selfies.
2014: Kim marries Kanye in extreme luxury in Florence, Italy. This came after the pair covered Vogue in wedding attire, their photo captioned "#WorldsMostTalkedAboutCouple."
The selfies have only become more famous with the addition of baby and father.
At this point, Kim's position as member of the super famous is secure. It is because of this super fame that she was able to build a separate, niche career for herself as taker of high-value selfies: She published Selfie, her enormous coffee table tome filled with pictures of her own face, in 2015. And people buy it. And read it. Such is the power of the Kardashian selfie.
"We see Kim getting dressed or undressed, lounging poolside or couchant on beds or 'in my closet in Miami trying on clothes,'" Stephen Burt wrote for the New Yorker. "Kim dons a fur hat fit for a chic Russian winter, poses with a flashbulb above a toilet ('I love bathroom selfies'), models huge amber sunglasses, blows us a kiss. Often she does snap pics in bathrooms, where other photographers may not dare to tread."
By 2015, Kim is doing absolutely mundane things and the New Yorker — the world — is watching, writing about it. She is reportedly getting paid anywhere from hundreds of thousands to a cool million to endorse products. She has tens of millions of Instagram followers and in 2016, when she does a baby release (because that is now a thing) on Instagram, revealing the first picture of newborn Saint West, the internet explodes. 
We find ourselves in the Kim Kardashian age. We are maybe frightened by this.
Which brings us to the question: when does it end? 
The answer is, seemingly never. Kim was famous without Kanye; Kim was becoming famous without Ray-J; Kim was not dethroned by his sex tape scandal but catalyzed by it. The reason she is so famous because she's willing — maybe even eager — to put it all out there. To many, she may be famous for doing "nothing," but she does everything very publicly. That's the unifying theme here.
"There's barely a strand of the modern media that the Kardashian Wests haven't been able to master, and for good reason: Kanye is an amazing performer and cultural provocateur, while Kim, through her strength of character, has created a place for herself in the glare of the world's spotlight, and it takes real guts to do that," as Anna Wintour wrote of her decision to put the couple on the cover of Vogue in 2014. Be brave enough to bare it all to everyone, and who's going to take you down?
It's almost as if Kim is the internet and the internet is Kim. She will stop being so famous when we stop writing thousands of words about her, but we won't stop writing thousands of words about her until she's a little less famous; until the public loses interest. It could go on and on forever this way.