Adele Got a Message From an Astronaut at the Brit Awards and It Made Her Cry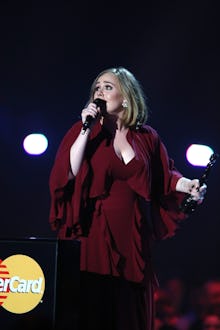 Joel Ryan/AP
Pop-icon Adele had an emotional night at the Brit Awards on Wednesday, and one moment hit her particularly hard. 
Read: The Secret Meaning Behind Coldplay, Bruno Mars and Beyoncé's Halftime Performance
She was effusive and gracious all night — but it was the moment she received the global success award that really got her, because the award was presented from the International Space Station by British astronaut Major Tim Peake.
"We're all huge fans up here," Peake said, speaking to Adele from outer space.
The singer took home a grand total of four awards, reported the BBC, including the awards for best album and best British female solo artist.
"That was really amazing," Adele said through tears as she accepted the global success award. "And Tim Peake I love you, good luck! I hope you're OK and not too hungry."