The Most Inclusive Fashion Week Show Was the One You Didn't Hear About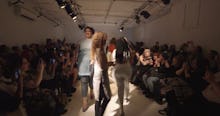 Sure, we may talk a lot about diversity and inclusivity in fashion, but what does that really look like? Are we talking about racial diversity? Size inclusivity? Ability? What does an inclusive runway really look like?
Well, here's an idea:
On Feb. 19 — the day after New York Fashion Week formally came to a close — in a nondescript room on the third floor of a nondescript building in New York City, models of a variety of races and sizes and ages and genders and abilities walked down a runway for the brand SmartGlamour.
Read more: Only 0.1% of Models at New York Fashion Week Were Plus-Size, Finds New Report
One model with a prosthetic leg wore a pink, red and gray floral dress. Another model, who has albinism, wore a strapless yellow number. 
"When I launched SmartGlamour, I launched it to be all-inclusive, to be affordable, to be ethically made and for everybody," its founder and designer, Mallorie Dunn, 28, told Mic before the show. 
Fashion runways, not to mention fashion ads and magazines, have started focusing more on inclusivity and body positivity recently. But Dunn, who's been a fashion designer for 10 years, says she wasn't trying to capitalize on a trend or movement so much as do something she's felt strongly about for years.
"Three or four years ago, I was thinking about just in conversations I had with my loved ones and coworkers, and I would get impassioned about the way women talk about themselves," Dunn said. "They would just talk so badly about themselves. And women have way more to offer than just our appearances."
To counteract that narrative, Dunn decided to start SmartGlamour, which is size-inclusive, stocking sizes XXS to 6X. She also wanted to make sure the clothes could be customized, so she could offer her customers the same-quality clothing many others can attain. For her shows, it only made sense for the models to represent her customers, who can be anyone, regardless of size or shape or ability or identity. 
At the same time, Dunn also makes sure to not use her models as tokens, as sometimes happens when a designer hires one plus-size woman for his show (like Marc Jacobs recently did) and makes headlines for just that. They become a spectacle. 
Instead, since 2014, Dunn has had women of all sizes and shapes walk alongside one another as equals. Other designers are starting to do the same at Fashion Week, like Chromat, which included not only amputee model Lauren Wasser, but also 85% models of color. 
"Even though I'm a small brand, these women that model for me come away with a really wonderful experience, because I'm basically telling them, 'You are all on an equal playing field and you're all wonderful,'" Dunn said. "And the rest of the media just isn't telling anybody that."
The message extends beyond the runway. In January, Dunn launched the #ImFlattered campaign, which highlighted the most common unsolicited advice women have heard about what they should wear or how they should dress for their bodies. 
The message is clearly resonating. Viewers and fans of the brand crammed the room to capacity for the show, with people standing in the corners and filling up every chair.
"I hope that [the show's viewers] see someone that they can relate to in some way," Dunn said. "Whether that's somebody who's plus size, whether that's somebody who has a disability, whether that's somebody who's really short and just sees that person and thinks, 'OK, I could do that.'"
She also hopes other brands are watching.
"They think that in order to make money, you have to make people feel like they're always wanting to reach this unachievable goal when it's not necessary," Dunn said. "You can also just make people feel really good about themselves, and then they'll want to buy things from you." 
So if you're wondering what a diverse runway looks like, here it is. Watch Mic's entire video on SmartGlamour below: