This Is What the Academy Awards Looked Like Before Everyone Used Stylists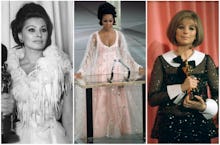 At the Academy Awards, which are happening for the 88th time on Sunday, movies matter. But so does fashion.
In the tabloid-obsessed, internet-savvy world we live in, a great gown can cement someone's status as a celebrity, or even an icon. And over the past few years, it's the stylists who have been entrusted with not only the actors' and actresses' looks, but basically their careers. Mega-stylists like Rachel Zoe buzz around Hollywood acting as the representative between the design house (Armani, Dior, etc.) and the celebrity each awards season.
According to Vanity Fair, the red carpet stylist became a thing sometime in the 1980s.
"As other designers who understood the value of the red carpet early — Gucci, Valentino, Calvin Klein, Gaultier, Alberta Ferretti and Carolina Herrera — began to enter the game, stars became overwhelmed with choices," Vanity Fair reported. "It made sense for them to hire stylists to make a selection and bring the dresses to their homes so they could choose in peace."
Stylists slowly became more popular into the '90s, when the pressure of red carpet events became too much for one person to handle. The rise of tabloid best-dressed lists and E!'s Fashion Police only increased that pressure. Because of this stylist-run system, many stars are playing it safer, not wanting to wear something too "crazy" or something that could earn them a slot on a worst-dressed list.
But at one point it time, actors and actresses would either go into uber-fancy stores themselves or have movie studios handle the whole thing. Sometimes, the results were great. Other times, it was just simply more... exciting. So let's look back fondly at what the Academy Awards looked like before "stylist" was a credible profession.
Actresses could wear whatever makeup they wanted.
Case in point for not needing a stylist: Audrey Hepburn at the 1954 Oscars. It's elegant, it's simple — and yet, she's still wearing stage makeup from the stage production Ondine in New York City, which she had to race from to make it in time for the show. That is something no stylist would ever allow today.
They also weren't afraid of feathers...
What Sophia Loren wore to the show in 1963 was Björk before Björk. And we applaud her bravery.
...or wearing pants on the red carpet.
Over the next few years, there would only be more brave women following in their fearless footsteps, wearing whatever they damn well pleased.
In 1969, Barbra Streisand basically wore Rihanna's bedazzled naked dress, but in pantsuit form, when she won the best actress Oscar for Funny Girl.
The look was so outrageous for the time, Vanity Fair reported, that this was the turning point in red carpet style, and when people actually really started paying attention to it. (So thanks, Babs.)
Also, in 1969: Just look at these women. And in particular look at the amazing suit worn by the late, great Natalie Wood on the far left, and the cheetah-print wrap dress on Jane Fonda in the center.
These are outfits we'd buy from Topshop in a minute.
The dresses had serious personality — and sparkle.
Diahann Carroll's outfit at the 1969 Academy Awards is not just a showstopper, but it has personality. Those sleeves? That sparkle? It's a risk, and something that maybe stylists wouldn't be too thrilled by today given the high stakes game of best-dressed lists.
But it does highlight the fearlessness that we've lost now that "stylist" is a bonafide profession. Women and men now seem like they're scared to really wear what they want.
Back then, not even short dresses were taboo.
In 1969 (yet again), Julie Newmar wore a very, very short dress to the formal ceremony.
And nobody was afraid of a really, really, really big dress either.
In 1981, Blythe Danner decided to wear the ugliest couch at the Salvation Army to the Oscars. Even Steve Martin is like, "Uhm, babe?"
Though we're sure she was very comfortable.
And in 1982, Bette Midler decided that she would dress to match the statuette herself, slipping into the poofiest golden dress we have ever seen.
Don't forget that pop of color in the form of multicolored, jewel-toned fabric on one shoulder either.
In 1996, Susan Sarandon attended the awards in a similarly huge and similarly hued dress. But because Susan Sarandon is Susan Sarandon, she walked the carpet in a pair of super chill sunglasses and a massive formal shawl. You probably remember this particular accessory being popular at any and all proms in America in the 1990s.
Even the men took some big, big risks.
Don't think this is limited to women, because at one time, male actors could take advantage of wearing whatever they really wanted, too. And in 1976, apparently, guys just fucking loved frilly shirts and huge ties.
Just fucking loved them.
But exactly one year later, in 1977, you know what they also loved?
No ties at all. As seen in this image of Sylvester Stallone in the dead center of his hot years, cool guys need no ties. Although they still do like a little bit of ruffle every now and again.
Ladies weren't afraid of a smart suit.
This may come as no surprise but Diane Keaton seriously has got it going on. In 1976, she arrived to the awards in this totally charming suit, predating all of our lady-in-suit obsessions.
Then, two years later in 1978, she came up to accept her Oscar in this frock. And more power to her for it.
Most importantly, though, Cher was able to be Cher.
Even back in the 1980s, Cher was a force to be reckoned with. To the 1980 Oscars, she wore this Bob Mackie extravaganza. Obviously it caused a ton of stir (as did her appearance with Val Kilmer), but Cher didn't stop there...
In 1986, Cher made what is now one of the most iconic Academy Awards moments of all time. And of course, Bob Mackie had something to do with it.
To start at the top, she wore a headdress that made her look like she had just stuck a fork into an electrical socket. Then, she wore a midriff-baring top that was caged. At the bottom of her ensemble was a pair of pants with a long, intricate, floor-length strip of beads. It made the Barbra Streisand pantsuit everyone freaked out over 17 years prior look like something Hillary Clinton would wear now.
Then, in 1988, she basically outdid herself by showing up nearly nude with just a few beads and embellishments covering her most private bits. She was Beyoncé at the Met Gala before Beyoncé was Beyoncé at the Met Gala. (Oh, and that year Cher won for her leading role in Moonstruck.)
Clearly, what we've lost in this age of stylists is this fearlessness and flair, where you could see how joyful these people were to wear exactly what they wanted.
Now in this image-obsessed celebrity age, where even what celebrities wear to get Starbucks matters, maybe we'll never be able to revert back to actors and actresses taking these big risks. All we can do is hope that someone (Nyong'o? Blanchett?) somewhere, right about now, is looking at a rack of dresses and picking one they truly love, and not really caring what their stylist says.
In the meantime, Cher will continue to dress exactly the way she wants.